Have you noticed lately that the art on the Op-Ed page of The New York Times is tamer than it used to be? I haven't made a study of it, but that's how it seems to me. Proof, if needed, comes with the paperback publication of All the Art That's Fit to Print (And Some That Wasn't). It's a knockout collection of Op-Ed art spanning four decades, from 1970 to 2008, written and edited by Jerelle Kraus, a former Op-Ed art director who, as Ralph Steadman notes in the foreword, "has the eye of a hawk and the heart of a revolutionary."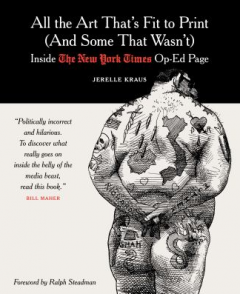 "Kiss-Off," the first chapter, sets the richly anecdotal tone of the book. It tells how, in 1979, Kraus asked the famed caricaturist David Levine to illustrate an essay by William Pfaff that accused Henry Kissinger of "catastrophic war crimes." Kraus, having just begun as the page's art director and wanting to guarantee that Levine would take the assignment, gave him carte blanche. She reasoned that "no illustration could skewer" Kissinger "as harshly as" the "text's blistering attack." She writes:
Levine jumped at the chance and delivered a satiric tour de force. Tattooed on the diplomat's back are hallmarks of his career. Shoulder hairs become Arabic script, bombs fall on Cambodia, and Vietnam darkens; "Richard" shares forearm billing with "Mother": and the shah of Iran and a Chinese dragon adorn the cheeks [of his bare ass]."
But Kraus had miscalculated.
Glowing with pride, I showed the sublime spoof to Op-Ed editor Charlotte Curtis. She turned up her nose. "It's kinder to Kissinger than the Pfaff text," I ventured. Curtis fixed me in an arctic stare, her normally fluttering eyelids immobile. Then she squeezed her lids tight as I struggled to salvage the drawing: "I'll try to negotiate a mid-dragon crop." "That's not it," she snapped before pronouncing, bafflingly: "It's the excessive midsection flesh." "But publishing this drawing will be a real coup," I argued. "It's a cheap shot," she decreed with withering finality."
When Kraus apologized to Levine for the rejection, he gave her an "icy reply" and told her "to tell her editors never, ever, ever, ever to contact me again." Levine later recanted his "dire threat," she writes, but the lesson of that incident was, "No matter how savage or defamatory the text, the art — with its greater power to provoke right-brain reactions — must hold back." And she adds:
The episode also sounded an alert regarding the downside of working in the belly of the media beast. Prominent figures cannot be satirized in the Times any more than grenades can be joked about at an airport baggage check.
Kraus tried mightily not to pull her punches, and for the 13 years of her tenure she managed to get subversive images published more often than not. Her real nemesis turned out to be Howell Raines rather than Curtis, when he headed the editorial department. Kraus paints a devastating portrait of him as a "thick-torsoed figure with fine curly locks, lips that snap and snarl, and the forked tongue of a charming conman" who "revealed his fear, loathing and ignorance of art."
But insider tales of the Op-Ed page, interesting though they are, comprise the book's side show. While it's fascinating to learn that The Times used artists from the '60s underground press to illustrate Op-Ed pieces — Brad Holland and R. Crumb, for instance — and even more so to learn that an early hire as the page's art director, Jean-Claude Suarès, came from Screw, the main attraction of the book is the art itself, most of which did land on the Op-Ed page without being diluted or modified to satisfy conventional taste.
Since it's impossible to choose a representative sample of both the art and the artists in the book — there's just too much variation, and too many artists (142 in all) — here's an arbitrary selection chosen almost at random from more than 300 images, along with some excerpts of Kraus's comments.
Ralph Steadman
The Op-Ed page began publishing before establishing a fresh visual identity. The first page carried a photo fo China and borrowed theater caricaturist Al Hirschfeld to draw a spoof of Spiro Agnew. Before long, though, Op-Ed showcased a potent drawing by Ralph Steadman that Lou Silverstein, [Op-Ed's first art director] had seen in the artist's London apartment. Steadman would be good, Silverstein thought, because "he's an angry artist who focuses his anger." In 1973, an example of Steadman's focused anger accompanied one of Op-Ed's countless articles on Watergate.
Roland Topor
In 1971, an article about violence we do to ourselves occasioned a potent drawing by Topor. This master of the intimate and macabre had spent his childhood in the French province of Savoy, where his Jewish family hid from the Nazi peril. He went on to contribute some eighty drawings to the Times from 1971 through 1995. Brad Holland [who started out in the underground press and whose drawings often appeared on the Op-Ed page] cites Topor and Magritte as the two artists who most profoundly influenced Op-Ed visual style. …

Coupled with phenomenal work habits, Topor's unrivaled access to the world of his unconscious produced a torrent of images that are the envy of artists the world over. Learning to draw, Topor said, "should take no more than twenty minutes. But your responsibility is to put your deepest soul on paper, to communicate directly from your nakedness. Anything less is unforgivable. You mustn't do lots of roughs or listen to the client. I draw when I have to draw, when the idea is poisoning my brain so much that I must vomit it out."
David Suter
President Reagan was delicious to draw. … The hair, the haughtiness, the indifference, the hard line. David Suter illumined Reagan's lack of concern with unemployment. …

The rumpled, sandy-headed, and supremely gifted Suter taps into the riches of both right and left brains. His intellectual teasing has been an Op-Ed staple. . . . A self-taught artist — "I went to the Corcoran art school for a month," he says, "before dropping out" — Suter is a dedicated student of art history. "Flatness is a great topic in art," he observes. "I admire the lack of perspective in Oriental art."…

Suter doesn't dote on his originals. He dashes them off on the nearest envelope, napkin, or back of a previous drawing. "I'm too cheap to buy good paper," he says. "And I find expensive art supplies inhibiting. As with leaves falling off a tree, once my drawings have served a purpose, they're of no use to me."
Jean-Claude Suarès
Is not the typewriter mightier than the gun? This was the premise that elicited a witty image by Suarès in 1973. "I cut the background out of an old engraving," [he says,] "stuck it in my manual typewriter, and typed on it. This drawing's been reprinted more than anything I've done." …

Born in Alexandria, Egypt, to a German mother and an Italian father who communicated in French, [Suarès had an] ease in six languages [that] facilitated his work with international artists. … [The first Op-Ed editor] John Oaks recalled, "J.C. wanted striking art. The graphics related to the articles impressionistically rather than literally, and they were crucial to Op-Ed's sensational success." …

For the page to come into its own, to create a style, it would have to break a lot of rules. "I didn't want the illustrators to illustrate," says Suarès. "I didn't want clean, inoffensive drawings. I wanted personal expression, experimentation with symbols, and no words. So I spent a lot of time developing ideas with artists."
Steve Brodner
Steve Brodner's pitiless portraits – marked by stunning draftsmanship and smart, savage caricature – appear in most major American publications, yet he can barely catch a break at the New York Times. In 1993, a rare Brodner drawing did make it into the Times. It accompanied an assessment of the first popularly elected leader of Russia, Boris Yeltsin, who was considered to be a formidable politician when crushing enemies.

Brodner, who views his art as political activism, says, "If a drawing of mine absolutely tells the truth, I feel I did the job. My pieces must carry a lot of water. They must not only be good pictures, they must add to the discussion."
Brian Cronin
Concern about art's power to offend often resulted in watering down the wit and sacrificing any semblance of fun on the altar of caution. In 1995, a writer deplored the Overseas Private Investment Corporation's practice of "corporate welfare," which subsidizes "United States corporations, including some of our largest." Bloated government became – in Brian Cronin's inspired hands – a placid Holstein whose black spots formed a map of the United States. Cronin's original drawing showed a sharp-suited, briefcase-bearing businessman guzzling the bountiful flow from the big bovine's Florida-shaped teat. It was a terrific metaphor, but Cronin's cash cow would be a hard sell. Suckling is just too intimate an activity for the Gray Lady. The image's wit, however, propelled me to take a flying chance. "That's a riot!" chuckled the Op-Ed editor. "And it's spot-on. But there's no way we can run it. Howell [by then editorial page editor] would freak out." Cronin fumed, "I'm not touching it!" The artist was eventually cajoled into returning to the drawing board. His second version eliminated the mouth-to-udder problem by utterly removing the man. Milk simply dripped into a waiting stack of pails. That image, too, was vetoed (too wet). "This is the last piece I'll ever draw for the Times!" Cronin barked as he began his third version, which passed muster by abandoning anything remotely human or humid.
Seymour Chwast
In The Left-Handed Designer, Chwast stated, "Some of my most satisfying drawings were [of Nixon, who] was the caricaturist's dream." Of the five Nixons he reproduced in his own volume, three were for Op-Ed.

A pointed caricature accompanied a call to make the members of Nixon's staff accountable to the public in 1973. In this piece, Chwast notes, "all fingers point to the Guilty One."

Although Chwast has stated that his left-handedness "was considered a handicap — and evidence of my being a little odd" — his company includes Crumb, Durer, Escher, Klee, Leonard, Munch, Raphael, and Rembrandt, as well as Ronald Searle and many other artists in this book.
Christoph Nieman
In 2007, his concept was occasioned by an ode to romantic relic collecting. "The owner of Napoleon's penis died last Thursday," the prose began. Although Neiman's adroit graphic relies on language, not a word is lifted from the text. "When the story is really good," he says, "it's a trap for an illustrator. I couldn't outsmart it, so I went in another direction."
And now for The Times's own pièce de résistance — A Brief History of the Art: OP-ED at 40, Four Decades of Illustration — which is online and not part of the book. It's a terrific 10-minute video of Op-Ed editors, art directors, and artists (including Suarès and Holland) elaborating on their views. On that page you can also get a look at many more samples of the art than I've shown here.
Incidental intelligence: Kraus also appears in the video, but minimally. My guess is, The Times was grudging about letting her in. She writes of her gratitude for the paper's "tolerance of my outspoken obstinacy," but the powers there probably were less than thrilled by her book. She not only took them to task in it, she beat them to the idea for a collection. (The hardcover edition of her book appeared in 2008, before The Times posted its celebration.) There's nothing that newspaper editors hate more than being scooped on their own territory.
Postscript: Oct. 16 — OK, so the trend to tamer has exceptions. Case in point: This morning's sharp piece of Op-Ed art by Otto Dettmer, "Eyeball to Eyeball," illustrating what Michael Dobbs's essay calls an "erroneous" 50-year-old "myth about the Cuban missile crisis." Dettmer's work is ingenious, and it stings.