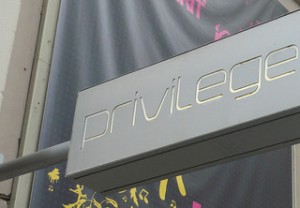 In Systemically Privileged, I floated an idea. I discussed the difficulty I've had over the years in describing the kind of nonprofit arts organization most in need of developing authentic community connections. My suggestion to myself went as follows:
Recently I have begun to experiment with a new label. The issue here is the historic preference given to presenters of a particular cultural tradition in the context of a rapidly diversifying society. Eurocentric arts organizations receive (and have received) the lion's share of resources (financial, human, "infrastructural"). The system favors these institutions. "Systemically privileged" reflects that preferential treatment. It also names the issue in a fairly straightforward way. So, for the time being, I'm going to give this a whirl: systemically privileged arts organizations.
The post was fairly widely read and elicited a couple of very thoughtful responses. One, from a frequent contributor, Carter Gilles, questioned me on the difference between a label and a description. He buys "SP" as a descriptor but not as a label. He says, "The danger with using a description as a label is that we have captured only one of … many aspects."
Another commenter, Edward Brennan, said, "'Systematically privileged' comes across as a desire to shame the organizations and the donors into different actions. . . . The point is, the desire for the label appears to be confrontational. You want people to confront something and you want them to change. By desiring someone to change, you are saying that something about them or their organization is currently unacceptable."
It's often the case that respondents point things out that I had missed. My desire for a means of referring to these institutions is almost entirely pedagogical. In a workshop setting, how do I differentiate them from others, for instance culturally specific arts organizations? So I hadn't given any thought to the label/description question. Indeed, in looking back at the post I see that I used them interchangeably. Although, to be honest, I'm still unsure about the functional difference between them. I've never thought of a label as needing to incorporate every aspect of a thing. To my mind, any label is necessarily selective. Otherwise it would not be a label but a treatise. For instance, "presenting organization" does not encompass a group's educational activities.
Whether I call it a label or a description, I've often found it useful to present an idea that forces rethinking of assumptions. I'll never forget the diversity workshop where I first heard the label/description "temporarily able-bodied." As a professor, I had in my office an "upside down map of the world." It had the entertaining effect of disorienting students and, when they said, "That's upside down," I'd get to engage them on the how a cartographer's position on the globe influenced what we think of as up and down.
In the arts, Barry Hessenius in Barry's Blog, once observed that if there were underserved people there must also be those who are overserved. (In typing this in WordPress, underserved is accepted. Overserved is highlighted as a spelling error!) My own phrase "European aristocratic cultural tradition preservation society" similarly highlights an issue in our field. (And, yes, I know that that one is pretty highly charged. I use it sparingly.)
I suspect that for many people the real issue about "systemically privileged" is its perception as being confrontational. Mr. Brennan even suggested that its intent, among other things, was to shame organizations and donors. I guess I can see that if it's assumed that I'm antagonistic toward these organizations. But that is by no means the case. My background makes me a passionate supporter of the potential for good these organizations represent in a rapidly changing world. In particular, my concern is their long-term viability, a viability that, in my view, can only be maintained by fairly rapidly changing perspective. I would, certainly, like them to change, in small ways at first, for their own good. In response to Mr. Brennan's comment about my desire for change, it's not that I think things about arts organizations are "unacceptable." Rather, with passionate concern for their future, my belief is that things as they are are "unsustainable."
But while I'm on the subject let me point out that for many, other labels/descriptions we use are equally confrontational–mainstream, traditional, and legacy, for instance, all suggest a centrality, a Northern-hemisphere-as-the-norm understanding of the cultural landscape. What I am willing to cop to is the thought that at this moment in time, perhaps a little discomfort is not a bad thing in moving us to consider reframing our place in the cultural ecosystem.
Engage!
Doug
Photo:
 Some rights reserved by Dr Stephen Dann