[contextly_auto_sidebar]
SOUTHERN Californians have been bludgeoned with bad news lately, as a number of media outlets — LAist, BuzzFeed, Los Angeles magazine, the LA Times, and the OC Weekly — have either shut down or seen major layoffs. (In Orange County, editor Gustavo Arellano resigned after being asked to machine-gun his staff.)
Perhaps the most disturbing of these is the fresh murder of the LA Weekly, which has weathered a number of abrupt shifts in the past but now seems to be truly dead. The entire genre of alternative weeklies has had a tough run since the Recession and digital revolution — I wrote about the death of the Boston Phoenix and struggles of the Village Voice here in 2013. The Weekly was run by the former New Times company of Arizona, who are hardly paragons of virtue. But this is a whole new level of hell.
In parallel with the way rich right-wing men like Robert Mercer, Sheldon Adelson and the Koch Bros have — often invisibly — distorted our national politics with huge contributions and bogus foundations, especially post-Citizens United — the Weekly's new owners snuck up on us. This group created a new company, told a number of half-truths, then came in, busting a union and firing nearly the paper's whole staff. This group of Libertarian jackals has also hinted that they will no longer pay writers for their "contributions." The Don't Work For Free movement has never seemed so relevant.
This Pacific Standard story is the fullest recounting I've seen so far. (KCRW Press Play's interview with new boss Brian Calle, former editor of the OC Register's famously Right-Libertarian editorial page, is also worth hearing if you have a strong stomach for evasion, duplicity, and intellectual shallowness.) The paper's former film critic, April Wolfe, has been leading much of the opposition among former employees of the Weekly, a paper that got a big early boost in its coverage of underground rock music, gay culture, and LA's air pollution.
More recently, the paper has been focused on telling the stories of L.A.'s marginalized communities. "I came in with the express intent of raising the profile of women and people of color in our film section, and we did that," Wolfe says.

"We were reporting on Boyle Heights, communities south of the 10, in the San Fernando Valley, Creative communities that are mostly people of color," says former managing editor Drew Tewksbury (who on Sunday won a Los Angeles Press Club award for a piece on a queer performance artist of Mexican descent). "I'm bummed I lost my job, I loved it, but I'm more bummed for the communities."

… in the week since the staff was laid off, only a handful of articles were published, the majority of which the former editors told me had been pre-scheduled. One post, published by contributing writer Keith Plocek on Wednesday evening following the firings, is still active on the site. Keith writes: "The new owners of L.A. Weekly [sic] don't want you to know who they are. They are hiding from you. They've got big black bags with question marks covering their big bald heads."

The new owners' backgrounds notwithstanding, there has been little evidence of a political shift at LA Weekly during the first week under Calle and co. Instead, the shift has, at least initially, been one toward incompetence and ignorance.
The whole story — with its description of the slithering secrecy of this new crew, is worth reading in its entirety.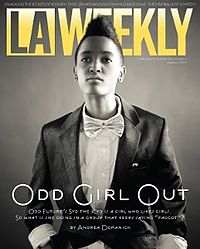 Deadlines, I'm afraid, keep me from saying more, but this saddens me and many others quite deeply. When I moved to town 20 years ago, the weekly was a feisty and intelligent paper, thick with adds, sometimes up around 200 pages, with the best food, film, and arts writing in the city. (I say this as someone who worked for the rival paper, whose owners later swallowed the Weekly.) I ended up marrying a longtime music contributor, and we still have many friends from several generations of the paper's existence.
To see it crushed by smug, wealthy offspring of Ayn Rand (are there any other kind?) who want their writers to work for free is pretty close to stomach-turning.