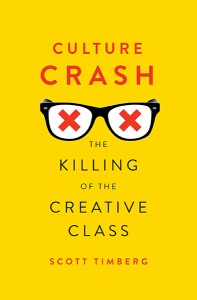 Here is some information on my book, which Yale University Press published in 2015. (Buy it from Powell's, here.)
Some advance praise:
With coolness and equanimity, Scott Timberg tells what in less-skilled hands could have been an overwrought horror story: the end of culture as we have known it. He mourns the loss of independent book- and record-store clerks who evangelized for quality. He grieves for artists' "day jobs," which allowed creative workers a toehold in the middle-class. CULTURE CRASH is an urgent, necessary book for anyone who has ever been moved by a song, a film, a paragraph or a painting. Without the humanities, Timberg cautions, we may lose our humanity.
— M.G. Lord, author of The Accidental Feminist, Forever Barbie, and Astro Turf
[Culture Crash] is an important work for this age. . . a timely reminder that the content providers of most peoples' cultural lifestyles are having their very livelihoods threatened by the darker consequences of the digital age. I hope this book will be widely-read and acted upon. I will recommend it to those in the business and beyond who want to understand some of the big issues facing the creative world.
— Legendary guitarist and songwriter Richard Thompson
I read Scott Timberg's pieces every week without fail. It's great to see his book Culture Crash debunk the mumbo jumbo about the long tail, file-sharing, free information, and positive thinking — and take a hard look at what it all means for artists, musicians, critics and teachers.
— Dean Wareham, lead singer of Luna and Galaxie 500; author of Black Postcards: A Memoir
For centuries, artists have been described as creatures somehow more alert, more sensitive, more vulnerable than the rest of us. The hermit writer, the gregarious bard, the wild-eyed painter serves as the conscience of the race, the canary in the national coal mine, the antennae of the species. They're the first into the edgy neighborhoods, the first squeezed out when rents go up. Part of this is romantic myth.
But the notion that the fate of a society is joined to those who produce (and distribute, and assess) culture has never been more salient. Where the artist, and his accompanying class, goes today, the rest – whether we want to or not – will follow.
Bottom line: When artists and artisans can't make a living, we all pay the price.