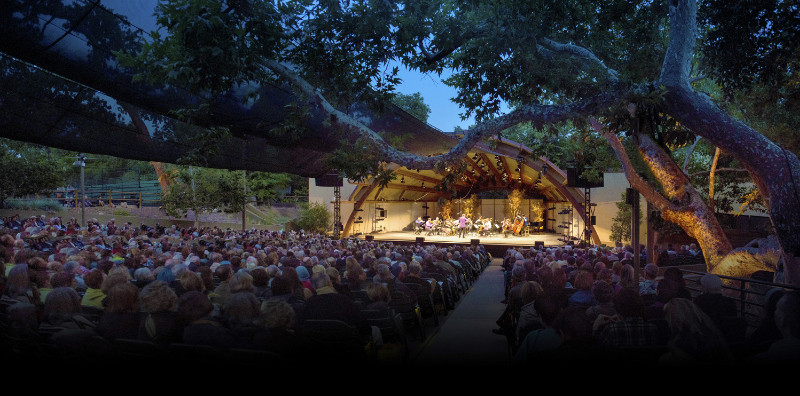 ONE of the best things about spring in Southern California is the Ojai Music Festival, which runs this Thursday to Sunday. I'm looking forward to this year's festival, which was programmed by soprano Barbara Hannigan. Ojai is – in my two decades of attending most years – always good and sometimes great. It reminds us that classical music, for all the enduring work of the past, is a living art, unfolding in our own time.
The 2019 installment is especially appealing because it's got a healthy serving of jazz – a number of pieces by longtime downtown innovator John Zorn, as well as young composer/ percussionist Tyshawn Sorey. There are some short pieces by John Luther Adams, one of our day's finest composers and one, like the festival itself, attuned to the outdoors. And the group that's playing a lot of these pieces – the New York-based JACK Quartet – is clearly one of the bright lights of the new-music scene. (The group made a very good impression at a festival preview event in Los Angeles a few months ago, explaining things like temperament and intonation in an accessible way, and playing examples with a startling kind of eloquence and control.)
The other day I spoke to Jay Campbell, the group's cellist. Campbell grew up in the Bay Area, skateboarding and listening to a wide range of music, from indie rock to the free-jazz improvisation of the Art Ensemble of Chicago. "So it was kind of a logical move," he says, "to be interested in what was happening now in classical music."
He was lucky enough to meet John Adams, and played a piece of his music while still a young kid. "It kind of blew my mind that a composer could be not dead," Campbell says. He realized that all of the composers he played had been alive at some point; it reframed his sense of where the music came from. Later he discovered Ligeti and the Minimalists.
This didn't, though, make him any more attentive a student. He spent most of his early years, he says, "never, never practicing." When he applied to study at Julliard, he didn't get in and felt unmoored. After a year, he applied again, got in, and decided to take things seriously for a change. "So I basically locked myself in a practice room for eight hours a day, for four years," he says. At night he'd play new-music gigs around New York and absorbed as much as he could.
Discovering the work of Austrian microtonalist George Friedrich Haas, and the school of spectral music Haas is associated with, made a strong impression on Campbell. "It change my life, musically," he says, orienting him to "a more sensual sound," and turning him on to the power of the drone and the complexity of intonation.
These days Campbell and his colleagues in JACK Quartet often work on world premieres. "How can I bet a better collaborator with living composers?" he asks. "I find that to be the most exciting stuff. To be at a world premiere of a piece, with someone you collaborated with… It's very different than playing a Bach suite." Campbell also plays the core repertoire with a piano trio. But with new music, "It expands what is possible with my instrument. It makes me feel a little bit expanded."
I asked Campbell to describe a couple of the pieces he's playing at Ojai.
On Sunday morning JACK will perform the world premiere of a string quartet by Catherine Lamb. "She's a composer of most intonation-based, droney, slowly developing music – it's about the sounds behind the sounds." The piece begins with all four musicians holding the same tone, a C natural. "It depends on the music unfolding slowly over time; it's intense and meditative at the same time."
On Friday night, Campbell and the JACK lads will perform Schoenberg's second quartet. He calls it, "very deep on so many levels. You feel a lot of his angst and conflict at the time: His chamber symphony had just been premiered, and was a total disaster." Partway into the piece, it adds a free soprano part – sung by Hannigan – and an old German song from the plague years. (Only an upbeat Californian like Campbell could describe this piece as "really fun.")
Overall, he's excited about Ojai and was pleased with what he saw when he visited last year. He was struck by "how open and interested the audience is, and how willing they are to be taken on a journey. The fact that they're game for that is really cool."
Campbell, – who also spoke about the liveliness of the new-music scene in LA and elsewhere, as well as the persistence of Minimalist composers – mentioned something that keeps coming up among my music friends: The growing interest in site-specific, immersive and very long pieces of music in a world that constantly seems to be speeding up. (We spoke a bit, for instance, about Max Richter's Sleep.)
The sensory overload, always-on tempo of contemporary culture has led a lot us to crave more meditative and gradually unfolding work – and this is true for musicians as well as audiences. "I find something very ecstatic about that music – the way it unfolds over a very long time," Campbell says. "That's something that other cultures have known" for many centuries. Now we in the secular, post-industrial West are kind of waking back up to music as ritual.
See you in Ojai!