[contextly_auto_sidebar id="4fl6TsMH8aaXBjpQRlz6uE4TNBUnTl8E"]
ONE of our favorite controversies over the last few moths has been the tussle over Excellent Sheep, the William Deresiewicz book that criticizes the obsessive pragmatism and money worship that's come to define the Ivy League experience. Simultaneously, one of our least favorite recent developments has been the destruction of the magazine The New Republic by a callow Silicon Valley rich boy and his tech-utopian sidekick.
I would not have thought of connecting these two issues, but they seem to have a natural affinity: In a Salon interview, Deresiewicz reminds me why I've come to read his work so avidly. "We've basically reduced what it means to be human to market terms, to getting and spending," he says. One of his culprits is postmodernism, which he associates not with Thomas Pynchon or the films of Godard but "the time of neoliberalism or Reaganomics or market fundamentalism, where the only thing that matters about you is your function in the marketplace."
And he says: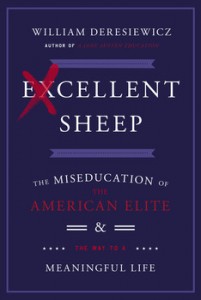 We've always been a society where the market has been the dominant cultural and political factor but, historically, most of the time there have been counterbalancing institutions— and we can broadly call those institutions "culture." That's meant the churches and the universities and art and thought and journalism.

What we have today is, first of all, a time when the balance is really getting out of whack. The market has come to predominate in a way that it hasn't in a long time. The other thing is that those very institutions of culture whose job it is to fight for and speak for other values like learning for its own sake, or beauty or justice or truth, they are being captured by the market. They have been bought by the market and been turned to serve the ends of the market. That's true in higher education and it's true in journalism. It's also true in the churches, if you think about, for instance, the prosperity gospel.

What [New Republic owner] Chris Hughes doesn't understand is that The New Republic has never made money. The Nation loses money now, Harper's loses money now, and they've been reliant on benevolent plutocrats who recognize that there are more important things than the market and are willing to run them not as profit-making institutions but as institutions that have value for other reasons.
The whole interview is worth reading, especially when he calls Hughes an "entitled little shit."