[contextly_auto_sidebar id="wZSGDJOmSbhvFKacaUaPFIlOS5DNnjBE"]
IS it more prominent than ever, or disappearing from American eyes and ears? It may be some of both, in a time in which opera is played in movie theaters and opera companies struggle to survive.
An aptly ambivalent story by Mark Swed in the Los Angeles Times looks at the strange predicament of American o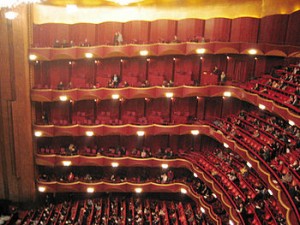 pera in 2014. Things were looking fine for a while, he says. "But during the final days of winter, a deadly opera virus hit. The first case was discovered in Southern California, threatening to fell San Diego Opera… Now, the virus has crossed the country. Metropolitan Opera General Manager Peter Gelb recently told the Guardian newspaper in England that opera as an art form was in trouble."
In some ways, things are lively and dynamic, he writes.
Opera has never had a wider or more anarchic reach. You can't escape it. Opera is broadcast in cinemas and at Times Square in New York. Opera pops up on the streets, in parks and at clubs. Museums mount operas, often with the intention of reinvention. There have been opera performances of late in grocery stores and banks as well as at a wax museum in New York and Union Station in Los Angeles. Symphony orchestras everywhere do it. Hipsters in Brooklyn do it.
For what it's worth, in the last year or so I've seen one of the most thrilling (Invisible Cities) and most frustrating (The Classical Style) operas of my life.
Swed's story is well worth reading. And we'll be curious how the trouble in San Diego, New York and elsewhere works out in the medium term.