[contextly_auto_sidebar id="GYlAzT4O3lEomZ10GqKrQmACXiv7ZjHE"]
WHAT kind of love is the truest and most enduring, spiritual or erotic? That's a theme that echoes through the opera I saw the other day. My experience with Massenet is limited, so I have little sense of what to expect. But Thais, which stars Placido Domingo as an earnest and confused fourth-century monk seeking out an Alexandrian courtesan, hit me pretty hard. I'm sorry to see this season of Los Angeles Opera draw to a close.
The opera is set during a fascinating and unsteady period in which the Mediterranean world was teetering between paganism and early Christianity, and both main characters – Domingo's monk and the high-class prostitute Thais, portrayed by Georgian soprano Nino Machaidze – represent the different positions. The opera, which starts slow but includes some lovely arias and smart sets, is a kind of complex dialogue between these two worlds and their two points of view: Is bodily lust of the love of Christ the truest path?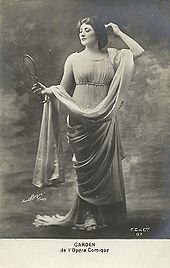 My colleague Mark Swed calls it "an exotic, erotic antique" and praises the opera here. He also describes Domingo's monk's trip through the desert to take Thais to a convent.
Raab's production treats the desert as a treacherous terrain for the monk. Sand dunes are shaped as breasts (shades of Sanderson?). The monks, their white tie and tails in tatters, sit among theatrical ruins of broken seats and phallic Greek columns that revolve around the sandy breasts. By the time Athanaël accepts his inner lust, Thaïs has already exchanged depravity for saintly deprivation as a ticket to sainthood.
I was impressed at how rich and resonant Domingo's voice was. A few years ago, he told me his voice was darkening, and we hear the results of that in robust fashion here. And Machaidze's entrance, visually and musically, floored me.
More than anything, the opera made me think of poetry – Wallace Stevens' "Sunday Morning," which sways between hedonism and devotion, and the verse of Cavafy, who came from Alexandria and was fascinated with the way the world changed when the old gods gave way to a new one.
It's not many operas that can summon so much to it. There are too more productions in Los Angeles, tonight and on Saturday.
Caveat: While I've reviewed books, jazz records and rock bands, I am not a professional critic but an culture reporter and enthusiast of the arts. I have linked to a credentialed critic; the distinction does, to me, matter.