[contextly_auto_sidebar id="Z2ToD122mPHrUfvrPjk39l1JB9c1LnKn"]
THE artist and comedian will speak tonight at the Broad Stage in Santa Monica, part of what's shaping up to a strong series called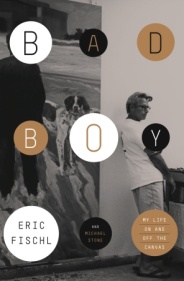 The Un-Private Collection. Fischl's memoir, Bad Boy: My Life on and Off the Canvas, is fascinating not only about the path of an artist, but about the strange cultural spot we find ourselves now. Here's something he told the LA Times when the book came out:
My primary thing is to make a painting, not necessarily to make a painting to sell for gazillions of dollars. But somehow the market has it such that nobody talks about talent anymore. It's almost politically incorrect to talk about an artist having talent… The price tag has replaced it, and it's certainly not a critical dialogue. It's just… a symbolic thing where it means the person who sells for the most money is the best artist.
There's also a show of Fischl's work opening in LA.
UPDATE: The Broad has posted a video of the conversation, here.