AS I posted the other day, this year's Ojai Music Festival was full of good stuff. But there was one piece that frustrated me: The new opera, The Classical Style, which was for many the highlight of the weekend. Why did it drive me crazy?
The Classical Style: An Opera (of Sorts) is the first opera commissioned in the seven-decade history of the festival; it's based on a well-regarded book by late music scholar and pianist Charles Rosen.
Jeremy Denk, who inaugurated the work and wrote the libretto, is not only one of the great musicians of my generation, he's known as one classical music's premiere writers and intellectuals as well. (I've written this myself and still believe it, and it was a real thrill to see him play Ives and others this year.) Steven Stucky, who wrote the music, is among the finest contemporary composers: His music – some of which was a pastiche of classical-era pieces or music that sounded like it could have come from the 18th century – was consistently strong. Some of the singers were very good, too.
Otherwise, this opera seemed a missed opportunity. At the risk of sounding grumpy, I expected more from talents of this caliber.
Is it possible to make an opera out of a critical study? Maybe; I can imagine, say, an intriguing work of some kind springing from, say, Leslie Fiedler's Love and Death in the American Novel, or Leo Marx's The Machine in the Garden; maybe something by Susan Sontag.
But what we got here – besides a few winning moments, such as the love triangle/harmony lesson in which a singer playing the Tonic is pursued by a Dominant and in turn yearns for a lovely Subdominant – is an oddly anti-intellectual batch of bad puns and inside jokes.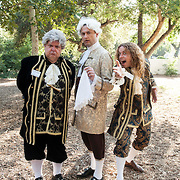 It's hard to describe The Classical Style any more fully, because it's such inside baseball. Denk clearly admired Rosen (an eloquent writer, in the New York Review of Books and elsewhere, also known as a difficult, dismissive guy) and tries to bring him alive as a kind of last-of-his-breed New York intellectual.
Haydn, Mozart and Beethoven wander through the play, lamenting that they are not only dead, but speakers of a dead language. A nerdy, Berkeley-school musicologist shows up and pontificates, to the delight of many, but giving the whole opera a sense of score-settling. (I have my own problems with theory-obsessed academics, but this did not engage the issue in a smart or original way.) Some of the rest was too clever by half; most of it was pretty insular. I even got the jokes, but wonder: Does this speak to anyone but classical-music and opera insiders?
Colburn School musicologist Kristi Brown gets at just how mixed up the damn thing is here.
Without the libretto in front of me it's hard to point to specific faults, but it's easy to recall what wasn't there in The Classical Style.
A few weeks ago, I saw an opera in Los Angeles – Massenet's Thais – that is on nobody's list of the world's very finest works. But it was about themes that still connect with our lives today – lust and luxury versus spiritual hunger – as well as a historical period in which many gods were giving way to one. Even as a lifetime agnostic, I found it deeply moving.
Cosi Fan Tutte – the opera responsible for turning me on to the form – is comic, but it's about something human as well: Love, deception, sex, the contradictions of monogamy. Another opera I've seen in the last year – Einstein on the Beach – is more abstract, but it's profound in its own oblique, minimalist way.
Part of my response to The Classical Style may come from the fact that I grew up in a jock-ish suburban world with little interest in high culture. (My parents and a few teachers were the exception.) And while I write about the fine arts professionally, I live in the shadow of a couple Hollywood studios, and most of my peers are into rock music and mainstream movies and Game of Thrones.
I'm also increasingly aware, as I watch theater companies tank, classical groups go under and publishing houses lay people off, that the audience for the traditional arts is not exactly thriving. (This is the place, by the way, where my opponents attack me for being a middlebrow nostalgist.)
I wasn't born into a classical-music world, but I found something profound in the music that wasn't happening elsewhere. And I don't want inside jokes to be required for others enjoying contemporary music. I want to be able to tell people that it's worth moving away from pop culture — at least some of the time — to find something deeper and richer, smarter and more sophisticated. (Like Rosen, and Denk, I think, I want to see Haydn, Mozart and Beethoven speak to us again, though I will hold onto my Shostakovich and Clifford Brown and Clash records, too.)
Does opera or poetry or whatever, then, all have to be earnest and portentous? Of course not, and this year's festival included a few smutty Mozart numbers that reminded us that the sacred and the profane have often existed in tandem in the classical tradition. That's fine; I get it.
But to have an entire opera, written by two near-geniuses, that's the centerpiece of one of classical music's premiere festivals, feel so emotionally empty, so dismissive, so insular — and perhaps worst of all, funny only in an Adam-Sandler-goes-to-conservatory kind of way — saddens me.
It forces me to say to the millions of Americans who think the fine arts are worthless, and that culture vultures are a bunch of self-absorbed toffs: Well, maybe we should just all stay in and watch TV after all.