The most important thing I learned in a glorious Humana Festival weekend of theater — six new American plays and a lot of theater geeks—was not in a play at all.
Anne Bogart gave a talk at the Festival. I recommend it to you.
If you too are a contemporary American theater geek, you probably already know her name. As a mere lover of new plays, she was new to me when I heard her talk in 2015, at the same festival.
Here's what she said last month.
Civics is…how we take care of the space between people. How we handle the space between people matters.
I wrote it down, put it on social media, and added it to my standard presentation deck about how arts and artists should be part of the work of creating healthy and equitable places for people.
What a wonderful definition of civics. This is what creative placemakers are doing—finding new ways of dealing with the space between people. It's what art and artists can do. Anne says that this is what theater should do. [For theater that surely does deal with the space between people, see also This is Reading and Pre-Enact Indy.]
At the Festival, for the final weekend of plays, the Encore weekend, a large group of us came from out of town. There were professionals in the field, and many from the media. When you are seeing six plays, two talks, and an awards ceremony in just three days, you start to recognize your team…the group of people on your schedule.
Some of the most memorable things we saw together were not on the performance stage, but about the stage.
Like:
Anne's comments – so good, you really should watch. In addition to her civics definition, I recognized her notes about how theater needs to be resonant. "I find myself [recently]…going to the theater, and I either say yes or no. This is not necessary or this I need…. It's clearer and clearer when theater is creating resonance…within me and relates to the lens of the particular world we are living in."
Also, the opening panel of the weekend: The Kilroys in Conversation. If you want to think better and smarter about equity and gender parity, you can watch this panel online. Also, if you want to know how to put together a truly dynamic panel, I mean the absolute opposite of boring, watch this 'gang of playwrights and producers' talk about community, connection, change, and action.
At the festival, as you travel from show to show and event to event, with snacks and drinks in between, you often you sit with the same people, not just in the same section of the theater, but also literally next to them. My team included a journalist from Indianapolis and theater pros from Manhattan. We dealt with that space between us, talked about what we were seeing.
After Marginal Loss, we shared memories of 9/11 and how effectively the play captured our feelings and reactions on the days that followed.
As we waited for We, the Invisibles to start, we noted that the stage looked perfectly like every boutique hotel in recent decades: the lighting, the music, the design elements. And after, we remarked on the action, use of space—the set design was not just uncanny but complex, and the multiple parts played by the actors.
We laughed together at the hilarious and pointed Do You Feel Anger recognizing the importance of empathy and the #MeToo year. Later, we talked about how humor isn't always this effectively employed to further important discussion and difficult topics.
At a Festival like this, the community is close, it's immediate—the space between us is small, and gets progressively smaller.
I appreciated playwright Leah Nanako Winkler's sly reference to Lyft (importantly not Uber), so I tweeted. And then this happened.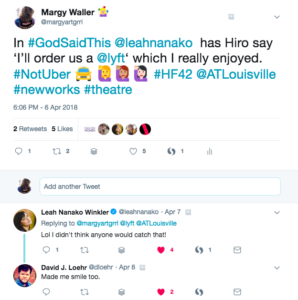 Throughout the Festival weekend, I heard wildly different reports about Evocation to Visible Appearance. It was the last play on my schedule and I'd changed my ticket (twice, it's a long story), so I wasn't sitting with my weekend team.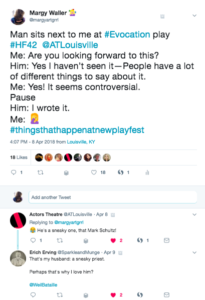 The seat on the aisle next to me was empty when I arrived, but soon a man I didn't recognize from the weekend sat there. I asked whether he was looking forward to seeing this play. He said, "Yes, I haven't seen it. People have a lot of different things to say about it." I agreed, "Yes! It seems controversial." After a pause, he said: "I wrote it." Doh.
But no matter, we talked about his place, and his work, and so when I was watching this stunningly beautiful and troubling story unfolding, maybe I understood more than I would have otherwise about how Mark Schultz might be attempting to close some space between people. And I got to share my goosebump reaction at the end with him.
These are things that happen when the Festival company understands it can (and should) create a community of everyone involved – and that includes, and indeed requires, the audience too. #HF42