In today's Wall Street Journal I review an off-Broadway revival of Stephen Sondheim's Pacific Overtures. Here's an excerpt.
* * *
Whenever John Doyle stages a Stephen Sondheim musical, you can always count on being taken by surprise. Mr. Doyle, the new artistic director of Classic Stage Company, is best known in the U.S. for his influential small-scale revivals of Mr. Sondheim's "Company," "Passion" and "Sweeney Todd," all of which gave us thrilling new ways of looking at three of the supreme theatrical masterpieces of the postwar era. Now he's turned his hand to "Pacific Overtures," the 1976 musical in which Mr. Sondheim and John Weidman told the story of the 1854 naval expedition led by Commodore Perry that opened Japan to the West—but did so from the point of view of the Japanese. As usual, Mr. Doyle has found his own way into "Pacific Overtures," and those who know the show well are more than likely to quarrel with certain of his directorial notions. Yet the results are exciting all the same…
Even when played straight, "Pacific Overtures" is a problem show, one whose two halves fit together awkwardly. The first act is a parable-like meditation on the coming of modernity to an ancient culture, while the second act stoops to ugly-American satire that is razor-sharp but a bit too easy to be wholly persuasive. Mr. Doyle's "solution" is to mount "Pacific Overtures" in a stripped-down manner that endeavors to underline its political aspect without compromising its subtle poetry. He's also abridged and revised "Pacific Overtures" in collaboration with the authors, compressing a two-and-a-half-hour musical into an intermission-free 90-minute span.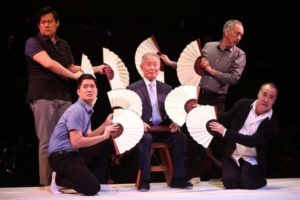 Poetry is a process of subtraction, and Mr. Doyle's genius—a word I use advisedly—lies in his ability to pare down a script to its essence. Doubling as director and designer, he has given us a "Pacific Overtures" that unfolds on a bare stage (the only set piece is a single wooden stool) which suggests a giant Japanese scroll, with the audience seated on both sides of the central playing area. The ten actors wear casual modern clothes, using scarves for visual accentuation, and move in a stylized manner redolent of the Noh theater on whose narrative devices Mr. Weidman drew in writing his book. The tone and scale of the production are enthrallingly intimate…
Mr. Doyle has omitted, among other things, "Chrysanthemum Tea," the witty first-act scena in which the Shogun of Japan is poisoned by his scheming mother when he declines to meet with Commodore Perry. According to Mr. Doyle, this musical number gives "Pacific Overtures" "a slight tendency for comedy to thrive at the expense of the Japanese." If that sounds like a bow to political correctness, I'd say you're right—and cutting it is also, dramaturgically speaking, a big mistake. The double-edged satire of "Pacific Overtures" is intended to dramatize the myriad ways in which two cultures can misunderstand one another. Omitting "Chrysanthemum Tea" throws the show out of balance…
Whatever its flaws, "Pacific Overtures" didn't need to be cut by an hour, much less subjected to a politically tendentious rewrite. Amon Miyamoto's entrancingly beautiful 2004 Roundabout Theatre Company revival managed quite well without that kind of directorial interference. If you've never seen the show, though, you won't suspect that anything is missing, and this revised version works superlatively well in its own way….
* * *
Read the whole thing here.
"Someone in a Tree," a song from Stephen Sondheim's Pacific Overtures. This video, which features James Dybas and Gedde Watanabe, is drawn from a telecast of a live stage performance of the original Broadway production, directed by Harold Prince and designed by Boris Aronson. It was filmed on June 9, 1976: