In the online edition of today's Wall Street Journal, I report on the world premiere in Chicago of Tracy Letts' Linda Vista. Here's an excerpt.
* * *
Tracy Letts, the author of "August: Osage County," has now given us a three-hour-long comedy about a freshly divorced 50-year-old misanthrope who is wrestling in vain with a suppuratingly malignant midlife crisis. While that topic will likely strike you as less than promising, prepare yourself for a surprise: "Linda Vista," which has just been given its world premiere by Chicago's Steppenwolf Theatre Company, might be Mr. Letts' best play yet….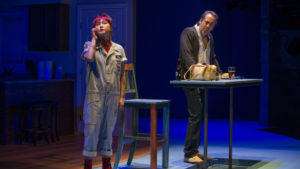 Wheeler (Ian Barford), Mr. Letts' antihero, is a hyper-opinionated blowhard, a liberal Archie Bunker with culturally conservative tastes who defines himself by his dislikes (Donald Trump, CGI, karaoke) and thinks the world would be better off if everyone in it conformed at all times to his views on all subjects ("Loyalty to an idea is better than loyalty to people"). As the play gets underway, he is moving into a sterile-looking apartment in suburban San Diego, having smashed up a perfectly good marriage by cheating on his long-suffering wife. He's not without charm, and it soon becomes evident that a churning reservoir of self-doubt lies just beneath his bullying manner (he gave up a career as a portrait photographer to become a camera repairman after deciding that he wasn't gifted enough to make the grade). Paul (Tim Hopper), Wheeler's oldest friend, sets him up with Jules (Cora Vander Brock), a younger "life coach" with a master's degree in "happiness" who believes that "it's more fun to like things" and sees through his noisy bluster to the fearful, vulnerable man within. It appears that he may be on the road to reclamation, but then he meets Minnie (Kahyun Kim), an even younger Vietnamese-American "rockabilly girl" whose heavily tattooed arms and dismissive surface manner ("God, white people are so sad") conceal a closely similar degree of vulnerability, and…well, you can probably guess some of the rest….
Mr. Barford and his six colleagues constitute a true ensemble cast (four of them, in fact, are members of Steppenwolf's semi-permanent ensemble). Even the minor characters are realized with telling exactitude, and Mr. Barford never lets Wheeler's charm obscure the blunt unpleasantness of his touch-me-not manner….
* * *
Read the whole thing here.
The trailer for Linda Vista: