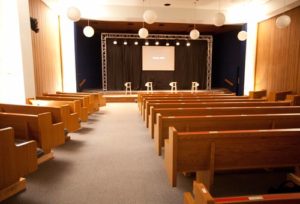 I still can't quite get used to the fact that theater companies around America are performing Satchmo at the Waldorf, my first play, without my being there to see it happen. On Thursday, for example, Satchmo opens in Portland, Oregon, for a month-long run at Triangle Productions, a company about which I know nothing save that it exists. Nor am I familiar with the work of Salim Sanchez, the actor who'll be playing the triple role of Louis Armstrong, Joe Glaser, and Miles Davis. Not only will I not be in Portland this week—I'm busy covering shows in New York and on the East Coast—but nobody in Portland has gotten in touch with me about the production. It's as if I were a Famous Dead Playwright, the author of a dusty classic, instead of a non-famous, undead guy who's hard at work on Play No. 2.
Dramatists Play Service, Inc., the publisher of and licensing agent for Satchmo, assures me that it's normal, or at least not uncommon, for regional theaters to produce plays by non-famous, undead playwrights without reaching out to their authors. Once the papers are signed and the show licensed, the company is on its own, and in most cases it simply doesn't occur to the director or actor to check in with the playwright: they do their thing, and that's that.
I'm just fine with all this. Like a full-grown child, Satchmo now has a life of its own, and it doesn't require my presence to flourish. That's a good thing, an outcome of which I once dreamed and which has, to my amazement and delight, come to pass. Nevertheless, it feels more than a little bit funny to know that my brainchild is being put on stage without me, in the same way that someone might check one of my books out of a library and read it. What will Triangle Productions' staging look like? What kind of accent will Salim Sanchez use when he plays Glaser? Will the citizens of Portland laugh in the usual places—or at all? I'll never know.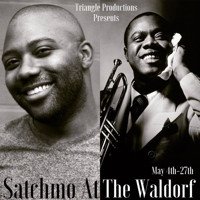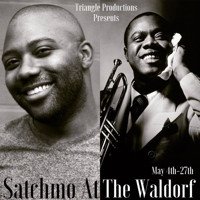 It turns out that Salim is on Facebook, so I sent him a note last week wishing him the very best of luck (and no, I didn't use that jinx-making phrase!). He wrote back at once and as follows: "I am so honored to be a part of this amazing piece! I will do my best to do it all the justice it deserves. Once I get in the zone, I'm gonna kill it!" That touched me greatly. I'm sure he will, and I hope that everyone in Portland who comes to see Satchmo enjoys watching him do so. But it's a purely theoretical hope, for only in the most tenuous sense can you sincerely wish good luck to people you don't know. This, too, is part of the mystery of being a modestly successful playwright. You write a show, other people in other places put it on stage, and…that's that.
The mezzo-soprano Jennie Tourel once told this story about Paul Hindemith:
Hindemith, after he wrote a piece, wasn't interested in it anymore. He never came to hear my Marianleben; although he knew I do it very well, he said he's not interested to hear it—he's written it.
No doubt such detachment is a becoming thing in an artist, and perhaps I'll acquire it if I live long enough. I don't have it yet, though, and somehow I doubt that a time will ever come when I'm not interested in seeing what other people do with Satchmo at the Waldorf. It's my baby, all grown up.