I wind up my summer travels this week with reviews of two out-of-town musicals, Trinity Rep's Cabaret in Providence, Rhode Island, and Paper Mill Playhouse's Little House on the Prairie in Millburn, New Jersey. The first is a gem, the second a dud. Here's an excerpt.
* * *
More people, I suspect, know "Cabaret" as a movie rather than a stage show nowadays. Bob Fosse's hard-edged, bisexually frank 1972 screen version, in which Joe Masteroff's book was completely rewritten and all but one of the songs were performed in a more or less naturalistic nightclub setting, was the most influential movie musical of the post-"Hair" era. Not only did Rob Marshall's 2002 film of "Chicago" owe everything to Fosse's example, but most of the major stage revivals of "Cabaret," including Sam Mendes' long-running 1999 Broadway production, have incorporated various elements inspired by or purloined from the Fosse film.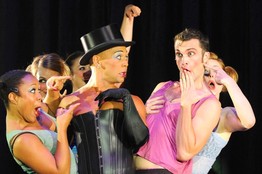 Curt Columbus, the artistic director of Rhode Island's Trinity Repertory Company, has taken a different tack in his new revival of "Cabaret." Instead of trying to put Fosse's "Cabaret" on stage, he has given us a show that is substantially faithful to what Masteroff, John Kander and Fred Ebb had in mind in the first place. This "Cabaret," unlike the film version, is an old-fashioned two-couple Broadway love story with a bracingly Brechtian dash of bitters: The songs sung by the bizarrely androgynous master of ceremonies of the Kit Kat Club (Joe Wilson, Jr.) supply ironic commentary on the futility of looking for love in a world driven mad by politics. The doomed romance of Fräulein Schneider (Phyllis Kay) and Herr Schultz (Stephen Berenson), her hapless Jewish boarder, is returned to center stage, while Sally Bowles (Rachael Warren) is not a top-dollar glamour puss but a middling hoofer who gets by on charm. Best of all, Mr. Columbus and Michael McGarty, his set designer, have hosed the polish off "Cabaret," setting their production in a run-down Weimar-era music hall that could easily have housed a real-life Kit Kat Club….
The strength of this strongly atmospheric production lies not in its individual performances but in its total effect. It is, above all, a believable "Cabaret," one that has the sharp and satisfying bite of authenticity….
The "Little House" novels of Laura Ingalls Wilder rank high among the permanent masterpieces of childhood, in large part because of the plain-spoken authenticity with which Wilder told her richly detailed autobiographical stories of pioneer life. It would take an Adam Guettel–or an Aaron Copland–to conceive and create a worthy musical-theater counterpart to what Wilder did in prose. The creators of "Little House on the Prairie: The Musical," which opened at Minneapolis' Guthrie Theatre last year and is now touring the regional circuit, haven't even tried. Instead, they've cuted up Wilder's books into something more like "One-Room High School Musical." The songs, by Rachel Portman and Donna di Novelli, are slick, innocuous movie-score pop, while Rachel Sheinkin's book, which stitches together familiar pieces of "By the Shores of Silver Lake," "The Long Winter" and "Little Town on the Prairie," is clumsily episodic and devoid of dramatic impetus….
* * *
Read the whole thing here.