I'm still on the road, and in today's Wall Street Journal I report on the Repertory Theatre of St. Louis' revival of Peter Shaffer's Amadeus and the Lyric Stage Company of Boston's production of Kiss Me, Kate. Here's an excerpt.
* * *
Peter Shaffer rang the box-office gong twice in a row with "Equus" and "Amadeus," both of which ran for well over a thousand performances on Broadway and have since been revived there, neither for very long. Yet they're still spectacularly effective, and "Amadeus" is something more than that: Mr. Shaffer's fictionalized portrayal of the musical rivalry between Antonio Salieri and Wolfgang Amadeus Mozart is a powerful parable of the terrible mystery of human inequality. Alas, "Amadeus" is rarely seen on stage these days, partly because Milos Forman's 1984 film version was so successful and partly because the play calls for a large and expensive cast. That's what lured me to the Repertory Theatre of St. Louis' new revival, a polished production authoritatively staged by Paul Mason Barnes that makes the strongest possible case for what in retrospect now looks like one of the best plays of the '70s….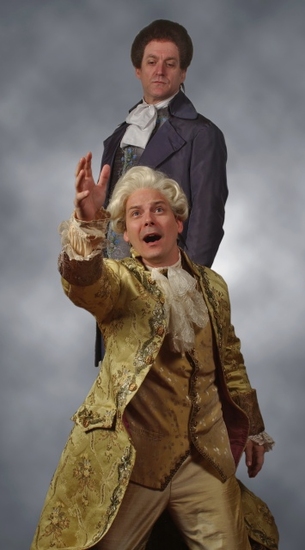 Nowadays, of course, most people know "Amadeus" from Mr. Forman's film, an opulently designed costume piece that is great fun to watch but lacks the expressionistic intensity of the original play. In the stage version, by contrast, the spotlight never moves away from Salieri, an ambitious but modestly talented composer who is driven to the brink of madness by the inexplicable fact that supreme genius and juvenile vulgarity exist side by side in Mozart, his hated competitor: "It seemed to me that I had heard the voice of God–and that it issued from a creature whose own voice I had also heard–and that it was the voice of an obscene child!"
To impersonate so tortured a soul is a daunting task, but Andrew Long, who was terrific as Antony in the Shakespeare Theatre Company production of "Antony and Cleopatra" that I saw in Washington last summer, is up to the job. He plays Salieri as a grotesque, grim-faced clown, an interpretation very much in accord with Mr. Barnes' staging, which emphasizes the comic aspect of "Amadeus" without lapsing into gross caricature….
If there's a better musical than "Kiss Me, Kate," I haven't seen it. Yet Cole Porter's masterpiece, near-perfect though it is, doesn't get done nearly often enough, and I've no idea why. All the more reason, then, to welcome the Lyric Stage Company of Boston's engaging new production, directed by Spiro Veloudos, whose small scale does nothing to diminish the charms of Porter's updated version of "The Taming of the Shrew."
To cram a classic Broadway musical into a 200-seat house requires considerable ingenuity, and I was especially impressed by the choreography of Ilyse Robbins, whose production numbers, especially "Too Darn Hot" and "Always True to You in My Fashion" (the second of which shows off the excellent dancing of Michele A. DeLuca to sumptuous effect), are all the more exciting for being performed in the lap of the audience….
* * *
Read the whole thing here.