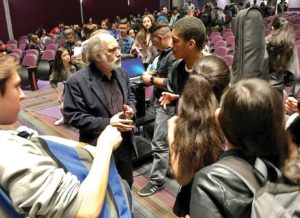 The current Weekly Standard has a long piece by me about the future of American orchestras. I write that orchestras can help us to heal our shredded national fabric and regain a lost "sense of place" – a shared American identity via our history and culture. And yes, I mean high culture.
I continue in part:
"Our colleges don't teach much history any longer. Many cultural institutions seem increasingly adrift. And yet I have stumbled upon an unlikely alliance that works: orchestras in partnership with universities. . . .
"If orchestras are ever to regain their role as agents of national unity, they will need to undertake a larger mission and curate the American past. . . . It must be understood that orchestras in the US have evolved very differently from museums. There are no scholarly curators on staff. The American musical past is little known or exhumed, nor is any cultural context outside of classical music. . . ."
The picture above, from my Weekly Standard article, shows me interacting with students in an El Paso colonia as part of an NEH-supported Music Unwound festival binding the El Paso Symphony to the University of Texas/El Paso, and to the El Paso public schools.
To read the whole piece, click here.