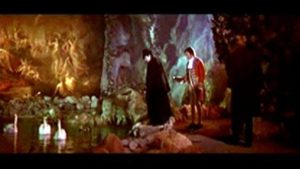 Today's "Wall Street Journal" includes my mini-review of a remarkable film. It's appended, along with a chunk of my book-in-progress about Wagner the man.
     The Film Society of Lincoln Center's current Luchino Visconti retrospective climaxes with more than a week of screenings (June 16 and 22-28) featuring the restored, four-hour version of Ludwig (1973)—a rare opportunity to properly encounter a magnificent Wagnerian film.
     The story is familiar as a cartoon. Insane King Ludwig II of Bavaria built expensive fairy-tale castles no one wanted. And he squandered a fortune supporting Richard Wagner, who opportunistically played him for the fool he was. He grew fat and ugly, crazier and crazier, and finally drowned himself in a lake.
     I saw Ludwig when it was first released in the U.S. Helmut Berger's Ludwig II seemed over the top. Trevor Howard, in a brief cameo, at least looked like Wagner. As with any Visconti film, the mise-en-scène was memorably luxurious—it was the film's most notable attribute.
    In fact, Visconti made a 264-minute film that was trimmed for distribution. What I saw was 137 minutes—barely half the movie. In 1980 (four years after Visconti's death), the original negative was purchased at an auction, then restored under the supervision of the original script supervisor. This version had its premiere later the same year at the Venice Film Festival. Whether the resulting mega-film is precisely what Visconti had in mind, I have no idea. But I am certain that it is a memorable achievement.
    Not only is the story that it tells no cartoon, it reasonably conforms to my own impressions of the dramatis personae, acquired over the course of a lifetime obsession with Wagner. Ludwig is an idealist, an aesthete, unsuited to reign. He is made to suppress his homosexuality. His appreciation of Wagner's greatness is ridiculed and misunderstood. He detests the pomp of the court and resists military entanglements others regard as noble and patriotic.
    Ludwig was 18 when in 1864 he ascended the throne. His instantaneous agenda was to rescue the financially strapped Wagner, and to collaborate with him in a project redeeming German culture. These aspirations were no more deranged than was Ludwig himself. As his letters confirm, he was eccentric, but certainly no simpleton. He made bequeathing a permanent Wagnerian legacy his top priority. This fairy-tale reversal stunned the ever-beleaguered composer. Ultimately, Ludwig and Wagner served one another royally. Every other factor bearing on their complex friendship of two decades shrinks to insignificance.
    In Visconti's portrayal the question of whether Ludwig was mad—debated in his lifetime and ever after—becomes moot. Chapter by relentless chapter, Ludwig ever so gradually descends into a condition of dissolute nihilism as a necessary consequence of passions and convictions he will not and cannot subdue.
     The triumph of this reading is that it's not predicated on unwanted royal duties; Visconti is reflecting on contradictions inherent in the human condition: Wagner's incessant theme. He has discovered in Ludwig a true embodiment of the Wagnerian pariah. He has transformed Ludwig's story into a veritable Wagner homage. The charged psychological/existential topic, the glacial pacing (the opening coronation sequence lasts fully 15 minutes), the luxuriance and amplitude—all this is what makes Ludwig a Wagnerian film, the most remarkable of its species I have ever encountered.
    Ludwig becomes a solitary figure of numbing pathos. Concomitantly, Trevor Howard's Wagner, in this full-length cut, is not the usual cartoon cad. There is nothing monstrous about him. Things Wagner said and did are (for once) plausibly enacted. He cavorts on the floor with his big dog. He honestly adores and admires the king—and also shrewdly critiques him behind his back. He paternally grasps the young man's predicament. And he knows when he must dissimulate.
    Even Ludwig's enemies—the courtiers for whom Wagner's genius was a pernicious myth; the doctors and diplomats who conspired to declare Ludwig mad—are quite believably depicted. They are mere mortals, confronting factors they cannot glean.
    Too much critical commentary about
Ludwig
 fastens on the scenery. But it is magnificent. Visconti so poetically renders one of Ludwig's iconic nighttime sleigh rides—the white horses, the pristine snow, the lanterns and footmen in livery—that it nearly stops the show. The film's visual peak is (of course) the Venus grotto at Schloss Linderhof. It is a measure of Visconti's empathy that Ludwig's entrance in his swan boat, and his feeding of the royal swans, heartbreakingly transcends any hint of camp. (You'll find a pertinent clip
here
.)
    Both these vignettes are accompanied by "The Song to the Evening Star" (sans voice) from Wagner's Tannhäuser. Visconti's musical masterstroke is to interpolate Wagner's then little-known A-Flat Major Elegy for piano as a theme song; it strikes a searing intimate note.
    I almost forgot. There's a star-turn—Romy Schneider as Ludwig's cousin, Elisabeth of Austria. Visconti treats her rejection of Ludwig's early affections as a key to his travails. Near the end, she attempts to see him and is maniacally rebuffed. This nonencounter, played to strains of Tristan, is nearly a gloss on the opera's ending, but with a different outcome. It works.
    And here — as a P. S. — is a pertinent chunk from my book-in-progress "Understanding Wagner":
Wagner's written salutations to Ludwig characteristically read "my most beautiful, supreme, and only consolation," "most merciful font of grace," "my adored and angelic friend."  The notoriously florid effusions of these letters were both sincere and consciously hyperbolic. Looking back, Wagner would say to Bulow: "Oh, those don't sound very good, but it wasn't I who set the tone" [July 10, 1878]. For his part, Ludwig (whose own letters indeed "set the tone") supported Wagner faithfully, but not without discrimination or reservation. Meanwhile Bulow was installed as conductor in Munich, and there led the premieres of Tristan und Isolde (1865) and Die Meistersinger (1868). . . .
In the midst of [the never-ending subterfuge concealing the Wagner/Cosima/von Bulow menage], Wagner whispers to Bulow: "Though we berate the 'fool,' he nonetheless belongs to us, and will never be able to break free of us. All we need now is a little patience. If we can obtain from him all that he has promised me – intelligible to my innermost self –, just think what an unprecedented and unhoped-for miracle that will be!" (April 8, 1866). Wagner had earlier written to Bulow: "There is something god-like about him . . . He is my genius incarnate whom I see beside me and whom I can love" (June 1, 1864). And this was by no means Wagner's only such expression of a platonic love liaison with the king.
The relationship was further complicated by promises unkept or kept incompletely. Wagner underestimated his financial needs. He changed his mind about assigning his operas to a new Munich festival theater. But it must be said that the 562,914 marks Wagner received from Ludwig over a period of nineteen years was substantially less than what Meyerbeer received for 100 performances of Le Prophete in Berlin. As for choosing Bayreuth over Ludwig's Munich – Wagner was surely correct to situate his Festspielhaus offsite. . . .
Ludwig got his way with Das Rheingold and Die Walkure both, premiered in Munich in 1869 and 1870. In 1876 he travelled to Bayreuth, twice, to twice attend the complete Ring of the Nibelung. In the aftermath of this first Bayreuth Festival, Wagner's  efforts to cope with the deficit in concert with Ludwig are exhausting merely to read about. He was simultaneously composing Parsifal, premiered at Bayreuth in 1882 under Ludwig's court conductor Hermann Levi. Ludwig could not countenance attending a public performance of the sacred play; in 1884, a year after Wagner's death, the Bayreuth production was mounted for the king, and the king alone, in Munich.
These early installments of the Bayreuth Festival, so instantly historic, vindicating Wagner's genius to the world, were also a vindication of Ludwig, without whose patronage they could never have occurred. Ultimately, the king and his composer served one another royally. Every other factor bearing on their friendship of two decades shrinks to insignificance.