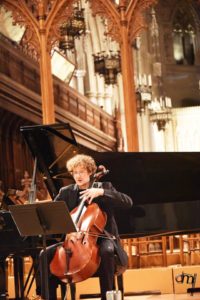 Is Mieczysław Weinberg (1919-1996) a third Soviet composer to set beside Shostakovich and Prokofiev? An increasing number of musicians seem to think so, including the peerless Latvian-born violinist Gidon Kremer, himself a product of Soviet training.
My own impressions of Weinberg's music have been spotty and confused, the peak experience having been Ben Capps performing Weinberg's 1968 cycle of 24 Preludes for solo cello at Washington National Cathedral earlier this season – a program presented by PostClassical Ensemble (of which Capps is principal cellist).
Weinberg's output for cello was immense: the 24 solo Preludes, three solo sonatas, two sonatas for cello and piano, and a cello concerto. He was not a cellist – and his cello writing does not explore new possibilities for the instrument (as Benjamin Britten's does). But the cello's voice suits Weinberg's dark turbulence of feeling and expression. I don't hear a single happy note in this cycle. And certainly Weinberg's musical embodiment of Stalinist Russia — however subliminal or explicit, conscious or incidental – is fundamental to his appeal.
Behrouz Jamali, who turns our PostClassical Ensemble concerts into films, has produced a remarkable 20-minute memento of Capps' performance, interspersed with my own comments and observations. The result, I would say, makes a stirring case for the importance of this composer, and of this music. You will find it by clicking here.
Ben Capps will return to Washington National Cathedral (where PostClassical Ensemble is Ensemble-in-Residence) next Fall to repeat Weinberg's 24 Preludes in honor of the Weinberg Centenary. He has also recorded the cycle – a studio performance now being edited.
Ben's concert came at the tail end of a two-year PCE commemoration of the centenary of the Russian Revolution. He earlier participated in a program exploring Soviet experimental music of the 1920s, curated by Vladimir Feltsman. It yielded another Behrouz Jamali film.
The final events in this series are a screening of the classic 1929 Soviet silent film The New Babylon, with Shostakovich's score performed live, on March 30-31 at the American Film Institute; and "Musical Skirmishes of the Cold War: The Shostakovich Case" at Washington National Cathedral May 23. For information: www.postclassical.com