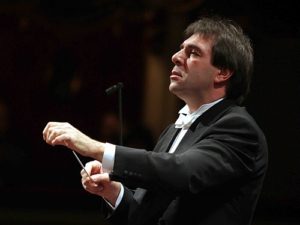 Bruckner's symphonies are communal rites of spiritual passage. For maximum impact, they require a proper hall and appropriate congregants. In New York City, Lincoln Center's Geffen Hall – formerly Fisher Hall, and Philharmonic Hall before that — is too dry and plain for Bruckner, and the New York Philharmonic audience that habituates that troubled space is restless and irreverent. I've heard Lincoln Center Bruckner conducted by Leonard Bernstein, Christoph Eschenbach, Kurt Masur, Riccardo Muti, and Klaus Tennstedt. None of these experiences stuck except Tennstedt's Symphony No. 8, a volcano of existential intensity. But lacking the requisite cathedral sonority.
Carnegie Hall, a few blocks downtown, is ideal for Bruckner, and I've heard a lot of it there. The conductors were Claudio Abbado, Daniel Barenboim, Herbert Blomstedt, Sergiu Celibidache, Bernard Haitinck, Eugen Jochum, Masur again, Zubin Mehta, Simon Rattle, and Wolfgang Sawallisch. The performances that mattered were Celibidache in No. 4 and Jochum in No. 8. For Celibidache I smoked a joint and sat up close and I knew what I was doing – the symphony played itself in slow motion, with every detail of sonority and balance hypnotically poised. Jochum's Eighth was, by comparison, warmly human, therapeutically wholesome, rapturously beautiful.
Daniele Gatti, who conducted the Royal Concertgebouw Orchestra in Bruckner's Ninth Symphony a few nights ago at Carnegie Hall, is relatively new to me. I first heard him five seasons ago at the Metropolitan Opera, conducting Parsifal – a performance I reviewed in the Times Literary Supplement and reprinted here. Gatti's Parsifal was the most memorably conducted opera I've encountered in New York in decades. His Carnegie Hall program – which began with excerpts from Parsifal act three – confirmed that first impression.
What distinguishes this conductor, so far as I can tell, is a combination of German and Italian traits that reads like a string of clichés. German is his mastery of structure and – a related attribute – inspired access to the harmonic undertow of tension and release that grounds "Innerlichkeit." The Italian part is what makes Gatti's Bruckner sui generis: a Mediterranean investment in legato and sostenuto. Long, sinuous strands of song are wedded to long-range musical architecture. With the Concertgebouw, the weight and suppleness of these sound designs were – even more than at the Met – singularly refulgent. The Gatti Bruckner 9 was distinctive, vast, exalted. A great performance.
So sustained was Gatti's architectural plan that – unique in my experience of the work – he launched the second movement attacca, without so much as an exhalation of breath following the first movement's massive coda. The symphony's ending, often fashioned as a celestial appendix, was in Gatti's reading not a narrative event, but structural: the beatific halo was not distended.
Bruckner's Ninth is full of pregnant silences. Gatti's were in some cases daringly prolonged, but at all times precisely calibrated to weigh a phased accretion or dissipation of pulse and intensity. In these fraught passages, the audience plays a crucial role. At Carnegie, 2,500 listeners sat silently in thrall: a welcome sign of civilization.
I left the hall feeling wonderfully purged. How I wish that New York City had a conductor or orchestra of such exalted caliber.