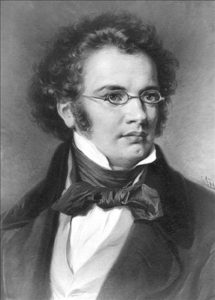 Every once in a while a master composer creates music so radically new that it seemingly falls wholly outside its time and place. Franz Schubert's 1828 song cycle Winterreise ("Winter's Journey"), charting an uncanny descent into madness, is such a work. Schubert's contemporaries didn't know what to make of it. Its chilly existential numbness is routinely likened in affect to Dostoyevsky. But Winterreise is sui generis.
The timelessness of Winterreise, its limitless expressive parameters, tantalize singers to do something more. It has sometimes been staged. In my experience, adding something more to Winterreise results in something less. I know of only one exception: the Schubert excursions of the bass trombonist David Taylor, himself sui generis.
Taylor plays and sings Die Nebensonnen and Der Leiermann – the final two songs of Schubert's cycle. He also plays two late Schubert songs setting bleakly surreal poems by Heinrich Heine: Die Stadt and Der Doppelganger.
Der Doppelganger has in fact become a Taylor signature. He first performed it many years ago in Vienna's Musikverein, as an encore with the Tonkunstler Orchestra. Taylor remembers the  initial skepticism of the musicians – and also their subsequent amazement, and that of Vienna's music critics. He tells this story as part of "Schubert Uncorked," the latest installment of PostClassical Ensemble's "PostClassical" radio series on the WWFM Network.
You can hear Taylor tell this story on part two of "Schubert Uncorked." If you want a mighty dose of Taylor's Schubert, listen to Die Stadt and Der Doppelganger on part two, beginning at 32:53.
These unique radio programs are recorded in real time by myself, Angel Gil-Ordonez, and Bill McGlaughlin. We listen and react. Bill is in charge. He brings to this assignment a singular combination of gravitas, humor, and informed sincerity. Hearing Taylor's Schubert for the first time, he registered incredulous admiration; he called Taylor's Nebensonnen "naked in front of the world." Angel, re-hearing Schubert/Taylor performances he had conducted half a dozen years ago, called them "much more emotional" than the original versions: "This level of sentiment cannot be achieved with a [singing] voice." My own reaction, on the air, was to call Taylor's Doppelganger an inspired "phantasmagoria." If you think all this is hyperbolic, listen to the broadcast and think again.
Like all PostClassical broadcasts , "Schubert Uncorked" features performances by Gil-Ordonez conducting PostClassical Ensemble – in this case, culled from two different concerts. The first of these juxtaposed Taylor's readings with the songs as Schubert composed them, rendered by the baritone William Sharp (whom I would call today's supreme American singer of concert songs).
"Schubert Uncorked" also includes the broadcast premiere of the Schubert/Taylor Arpeggione Concerto, which recasts Schubert's virtuosic Arpeggione Sonata as a wild showcase for bass trombone and strings. You can hear Taylor, in the broadcast, confessing about this premiere performance: "I was afraid, actually." We all were.
Taylor also said, of his Doppelganger at 37:45 of part two: "I don't' recognize my own playing . . . I never played it like that. That was pretty gargantuan." And so it is.
You can also hear Taylor playing Daniel Schnyder's Bass Trombone Concerto, composed for Taylor in 1999. It's now played by trombonists all over the world. Schnyder is a master synthesizer of jazz and classical styles. His gift for orchestration and instrumentation sets him completely apart from others who produce pabulum when mixing genres and traditions. The PCE performance is a kaleidoscopic romp – you won't find any youtube performances of the Schnyder concerto this vividly realized.
PostClassical broadcasts are two hours long. We take no prisoners. We trust our listeners. There is plenty of talking, including spats and harangues. My gratitude to David Osenberg of WWFM, who proposed PostClassical and is our producer, is profound.
P.S.: PostClassical Ensemble is about to commission from Daniel Schnyder a Mahler appropriation: "Wenn mein Schatz Hochzeit macht" for bass trombone (Taylor), baritone (Sharp), and Chamber Orchestra.
Here's a listener's guide (below) for "Schubert Uncorked." The full broadcast may be accessed here.
9:01: Schubert: Der Doppelganger (William Sharp, baritone; Seth Knopp, piano)
*13:01: Schubert/Taylor: Der Doppelganger (David Taylor, bass trombone; PCE conducted by Angel Gil-Ordonez
23:06: Schubert: Nebensonnen (
William Sharp, baritone; Seth Knopp, piano)
*25:56: Schubert/Taylor: Nebensonnen 
31:12: Schubert: Der Leiermann 
(William Sharp, baritone; Seth Knopp, piano)
*34:22: Schubert/Taylor: Der Leiermann (Taylor; Zoltan Racz, accordian)
*44:13: Schubert/Taylor: Arpeggione Concerto (ending) (Taylor, PCE, Gil-Ordonez)
*00:00: Schubert/Taylor: Arpeggione Concerto (mvmt 2) (Taylor, PCE, Gil-Ordonez)
14:03: Bruckner: Adagio from String Quintet (arr. for string orchestra) (PCE, Gil-Ordonez)
*32:53: Schubert/Taylor: Die Stadt 
(Taylor, PCE, Gil-Ordonez)
37:45: Schubert/Taylor: Der Doppelganger (Taylor, PCE, Gil-Ordonez)/
54:33: Schnyder, Bass Trombone Concerto (mvmt 2) (Taylor PCE, Gil-Ordonez)
1:01:00: Schnyder: Bass Trombone Concerto (mvmt 3) (Taylor, PCE, Gil-Ordonez)