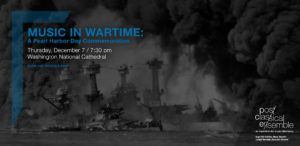 PostClassical Ensemble inaugurated its new residency at Washington National Cathedral with a World War II program – "Music in Wartime" – juxtaposing works by Hanns Eisler, Arnold Schoenberg, and Dmitri Shostakovich. The results were startling.
Eisler's strange odyssey is ripe for exploration. In Weimar Germany his workers' songs linked to a Workers-Singers Union with 400,000 members. Partnering Bertolt Brecht, he became a reckonable political force in support of the Communist Party. Then Hitler chased Eisler and Brecht abroad. Both, incongruously, landed in Los Angeles. Both were expelled and wound up in Communist East Germany, where Eisler wrote the national anthem but nevertheless proved an ideological outcast.
Through it all, Eisler (schooled by Schoenberg) figured out a way to marry leftist politics with a sophisticated musical style. And in LA, with Brecht, he produced a Hollywood Songbook that exquisitely ponders the condition of exile that was his perpetual fate.
At the same moment that Eisler and Brecht finished their Songbook, with its bemused Los Angeles imagery of swimming pools and celluloid spools, Schoenberg in LA composed a furious response to Pearl Harbor: the Ode to Napoleon, whose closing paean to George Washington is Schoenberg's way of showering gratitude on FDR.
Meanwhile, in Soviet Russia, Shostakovich was processing the Nazi invasion and Siege of Leningrad. PostClassical Ensemble's "Music in Wartime" program here offered the shattering Piano Trio No. 2 of 1944.
There was a time, not so long ago, when Schoenberg and Shostakovich were positioned as antipodes by Cold War advocates and enemies; you couldn't endorse them both. But mountains of dust have settled since the sixties – and Schoenberg and Shostakovich are still standing. The Ode to Napoleon and Shostakovich Second Piano Trio are timeless expressions of moral commitment by composers of heroic temperament – artists big enough to calibrate the most momentous world events.
Consider, in contrast, the case of Igor Stravinsky – also in Los Angeles along with Eisler, Brecht, and Schoenberg. His Symphony in Three Movements assays World War II from afar. It is an artistic act of detachment. Privately keying on newsreel images, it absorbs world events with calculated indirection (a topic I have previously explored in this space). A famous anecdote: when apprised that the war might invade the US, Stravinsky's first reaction was to ask where he could next remove himself in order to get away from it.
Our PCE Pearl Harbor Day concert, then, began with a half-hour Eisler set combining choral political songs from 1928 with solo songs from the Hollywood Songbook. Next came the Shostakovich trio. After intermission, we listened to FDR declare war on Japan ("a day that will live in infamy"). This led, attacca, to Schoenberg's Ode. More than one hundred people stayed on to talk about it.
Our new home — the National Cathedral — served this music magnificently. The Eisler workers' choruses were sung in street clothes; the workers marched off, singing, down the aisle of the great nave. The Shostakovich was framed by the towering severity of the vaulted crossing.
The performance of the Trio was the most formidable in my experience. The pianist was Alexander Shtarkman, whose clarion sonorities possess a thrusting edge worthy of Sviatoslav Richter (I write about this astonishing artist in The Ivory Trade). The violinist and cellist were Netanel Draiblate and Benjamin Capps – PCE's soloistic concertmaster and principal cellist. Michael McCarthy's Cathedral Choir is a magnificently maintained professional chorus. William Sharp, who sang seven Hollywood songs and was narrator in the Schoenberg, owns these assignments. Angel Gil-Ordonez conducted the Ode to Napoleon with fastidious care and impassioned advocacy. That he considers this work a twentieth century masterpiece was wholly self-evident.