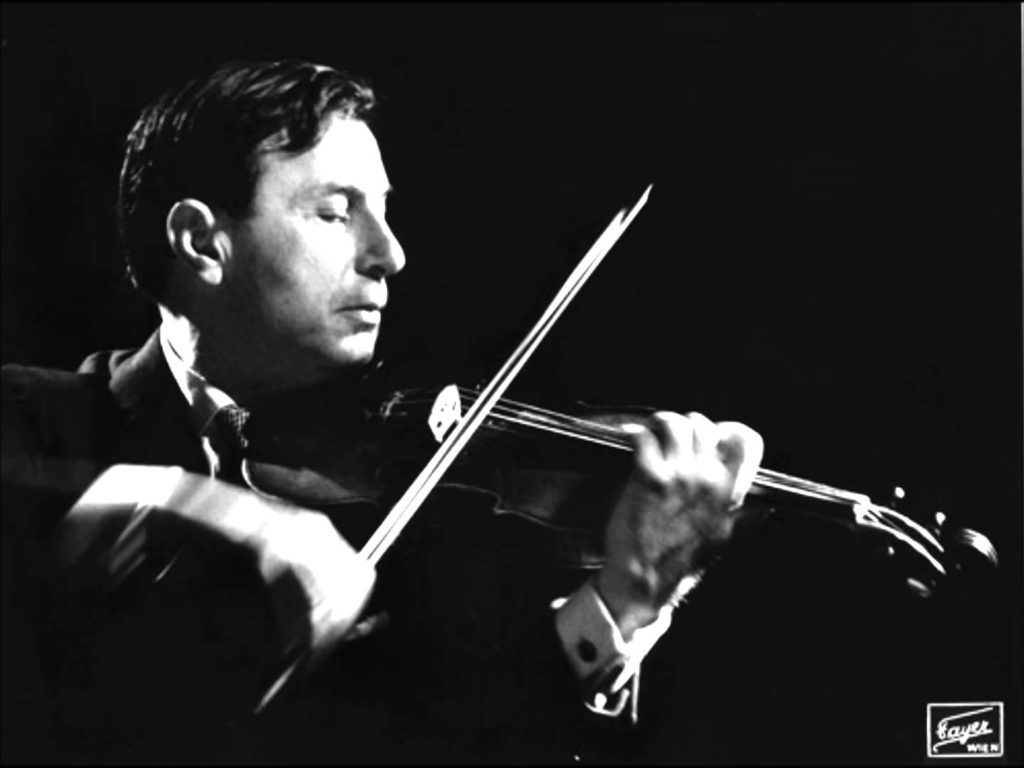 My frustrations with a recent performance of Brahms' Violin Concerto sent me to youtube in search of something different: an act of therapy.
A foible to which violinists are prone (pianists are immune) is lingering upon or otherwise savoring a beautiful note. That's OK in Bruch or Tchaikovsky but does no favors to Brahms or Beethoven.
After half an hour of Menuhin, Heifetz, Milstein, of Furtwangler, Toscanini, and Klemperer, I discovered a Brahms concerto beyond any I'd ever encountered: Joseph Szigeti (the second of my photos) in live performance with Dimitri Mitropoulos and the New York Philharmonic in 1948. Mitropoulos's orchestra is incendiary. Szigeti's rubatos are dictated by musical structure, not sonic allure. He never lingers on the beauty of a note because his sound is never beautiful. It slavishly serves the keenest possible musical intelligence.
Listen to Szigeti and Mitropoulos ignite at 12:20, surging toward the first-movement recapitulation of this historic performance. Or listen to how Szigeti's rounds off his cadenza to prepare the first movement coda. The ensuing prolonged ovation – from a Carnegie Hall audience that knew it wasn't supposed to clap midway through a concerto – isn't about violin playing.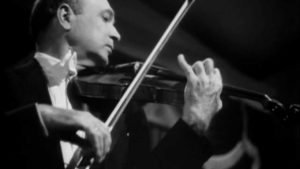 I have never heard a violinist sing the second movement less prettily or more tellingly. The eloquence of Szigeti's song is a function of phrasing and accentuation, not timbre or polish. This entire Adagio is galvanized by a binding trajectory. There is not a single indulgent rubato or rallentando. The performers make the strongest possible case for the music at hand. Forget about rote "textual fidelity" – this proactive interpretation is as authentic as it gets.
For beautiful violin playing Milstein is my man. I have long considered his 1963 recording of Saint-Saens' Third Violin Concerto the most seductive violin playing documented in sound. So after binging on Brahms I returned to that recording – on youtube – for the first time in many years.
I also discovered Milstein in Chausson's Poeme – a revelation. He takes the soaring airborne central Anime at a clip so fast the affect is astral.
I wrote about Milstein long ago – in 1993, when EMI commemorated his death with a two-CD box celebrating "The Art of Nathan Milstein." That New York Times article is re-printed in my 1995 essay collection The Post-Classical Predicament. I can't improve on my encomium. Here's part of what I wrote:
"Milstein's violin was worldliness itself. He never forced or varnished his slender, silvery tone. He shunned the urgent vibrato of his onetime classmate Jascha Heifetz. He disdained what Virgil Thomson called the 'wow effect.' At top speed, his passagework was easy, clear, never out of breath. In every aspect of interpretation, he eschewed exaggeration. His very appearance, dapper and composed, was not debonair, but simply and unaffectedly aristocratic. . . .
"Of Camille Saint-Saens it was quipped that he possessed all the attributes of a great composer save innocence; he was incurably, imperturbably urbane. Milstein's 1963 recording of Saint-Saens's Third Concerto . . . is without doubt one of the most beautiful ever made by a violinist.
"A performance more earnest than Milstein's would make this music sound sentimental. A more brilliant performance – from a less transcendental instrumentalist, incapable of Milstein's composure under fire – would make it sound trite. The vehemence of the concerto's opening Allegro, the intoxication of its luminous swaying slow movement, the elan and manque religiosity of its tarantella-and-chorale finale – all, in Milstein's hands, are poised, but perfectly, between passion and refinement. The result is transformative: an exercise in elegance and craftsmanship become sublime."
I first encountered this recording at the Upper West Side apartment of my friend Solomon Volkov, who had co-authored Milstein's autobiography. Solomon played for me the second subject of the first movement. That's at 2:40. The calm fluidity of this passage, juxtaposed with a window view of the Manhattan sky with Broadway far below, made an uncanny impression I will never forget.
Some years later I met Milstein's last accompanist, Georges Pludermacher. When I shared with him my admiration for the Saint-Saens performance, he told me that it had been Milstein's favorite recording (notwithstanding some insecurity in the opening solo, which he regretted).
I happened to attend – both in rehearsal and performance, what I believe were Milstein's final concerto performances – of the Bruch Gminor with Gerard Schwarz and New York's Y Chamber Symphony. I experienced the startling quietude of the opening solo as a rebuke to my generic expectations.
Milstein reportedly said that he loved the violin more than music itself – a touching confession. Of Szigeti it was self-evident that music and not the fiddle was his first love. They are great antipodes of the violin.