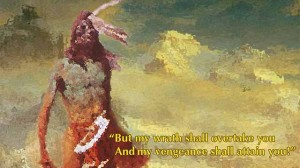 My last posting introduced the Hiawatha Melodrama, proposing a radical re-interpretation of Dvorak's New World Symphony. As a postscript, here is a visual rendering of the Melodrama's fifth movement by my colleague Peter Bogdanoff.
As concocted by myself and the Dvorak scholar Mike Beckerman, the Melodrama aligns text from Longfellow's "The Song of Hiawatha" with music by Dvorak. The world premiere recording is part of a new themed "Dvorak and America" Naxos CD (Naxos 8.559777) featuring PostClassical Ensemble conducted by Angel Gil-Ordonez.
The starting point of the Melodrama is Dvorak's testimony that the middle movements of his symphony were inspired by Longfellow's poem. In effect, the Melodrama suggests what a Dvorak "Hiawatha" cantata or tone poem might have sounded like (and Dvorak aspired to compose such a work). It also establishes some of the extra-musical imagery that fired Dvorak's musical imagination. The New World Symphony, being quasi-programmatic, marks a transition toward the tone poems and operas Dvorak would compose upon returning to Prague; he never composed another symphony.
"The Hunting of Pau-Puk-Keewis," the fifth of the Melodrama's six movements, includes sung as well as spoken text (at 3:30). Beckerman comments: "While this at first may seem far-fetched, one must remember that as soon as he returned to Bohemia in 1895, Dvorak composed a series of tone poems based on the ballads of K. J. Erben. In at least one of these, he set down the poem, line by line, beneath the music – so this process was not alien to him."
Here is a related visual presentation for the Largo and the Scherzo of the New World Symphony.
I next explore "Dvorak and America" as an Aspen Institute seminar (July 9-10, as a DePauw University festival (Oct. 27 to Nov. 2), and as a Columbus Symphony festival (Feb. 20-21).