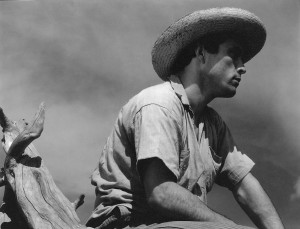 Gustav Mahler predicted, "My time will come" – and he was right. Anton Bruckner is another composer whose posthumous fame, decades after his death, far eclipsed scattered acclaim during his lifetime.
The relative paucity of post-1930 canonized symphonic repertoire impels the question: who else is awaiting such discovery? The surest candidate I know is Silvestre Revueltas, whose dates are 1899 to 1940.
Revueltas is sui generis, impossible to place, an unfathomably original talent. His birthplace – rural Mexico – is the surest point of orientation: the shrieking clarinets, shrill trumpets, and booming tubas of the village bandas of his childhood generated a galvanizing, instantly recognizable Revueltas sound. He partakes of nationalism, modernism, populism, and the cultural politics of the far left. His music is both "accessible" and challenging, surprising, provocative.
The most obvious reason Revueltas is not famous is painful to concede: it's that we don't expect Mexico to produce great international figures in classical music. And Mexican composers of Revueltas's generation did not enjoy the publishing, performance, and recording resources of composers in other lands. Another reason Revueltas is not famous is that he was eclipsed in his lifetime by his compatriot Carlos Chavez, a card-carrying modernist who enjoyed the allegiance of Aaron Copland and other Americans, and was a compelling organizational factor in Mexican culture. Revueltas had nothing like Chavez's practical acumen.
And there is a third obstacle to absorbing Revueltas's importance – he did not compose in the "normal" forms. Of his big symphonic works, the only one of substantial length – La noche de los Mayas – is an ersatz symphony concocted after Revueltas's death by the conductor José Ives Limantour; it vulgarizes and misrepresents Revueltas.
There is, however, a great Revueltas film score some thirty minutes long: Redes (1935). The film itself is a flawed masterpiece, an iconic product of the Mexican Revolution. Like that Revolution, Redes is unfinished. Its collaborators – including Revueltas, the master photographer Paul Strand, and the Austrian director Fred Zinnemann (in Mexico en route to Hollywood) — lacked a final, consummating vision. The script – about a fishermen's uprising — is ordinary. The actors are amateurs (many are actual fishermen). But where score, cinematography, and story align, Redes is one of the peak achievements in wedding music and the moving image.
Thanks to Martin Scorsese's World Cinema Foundation, we now have a beautiful restored print of Redes. What is not restored is the crude 1930s soundtrack. And yet, because in Redes music rarely overlaps dialogue, it's possible to screen the film with a live orchestra performing Revueltas's score. The new WCF print has so far been thus employed by the Louisville Orchestra, the Austin Symphony, and most recently by PostClassical Ensemble of Washington, D.C. (which I co-founded a decade ago). There will surely be more such performances to come – because they are revelatory.
The film's epic sequences are three. All eschew dialogue and all other sound except music. The first is the funeral of a child. The second is when the fish come in. The third is the film's finale – the fishermen mount their boats and surge towards the village where they'll demand their rights. You can see the funeral (with the original soundtrack) here. You can sample the very ending of the film (begin at 5:10) here. But the sequence that trumps every other is the big catch, with the fishermen – iconic Mexican faces, captured by Strand against an iconic Mexican sky – hauling their nets. The nets ("Redes" means nets) are deployed by Strand as a metaphor for ensnared lives. Strand makes a visual connection from the rope of the nets to the veins articulating toiling human arms. Revueltas's score seizes on both these metaphors, and transcends them with a stately brass chorale. The resulting montage is suddenly heroic, a universal statement of human resilience.
The autonomy of Revueltas's musical set-pieces is such that they more discourse upon than accompany Strand's poetic visual imagery. Accordingly, Angel Gil-Ordonez disdained a click-track conducting PostClassical Ensemble at the Clarice Smith Performing Arts Center (College Park) May 10 – an event supported by DC's enterprising Mexican Cultural Institute, Alonso Ancira (CEO of Altos Hornos de México), the Chevron Corporation, and the Andrew W. Mellon Foundation. Angel wanted to conduct the music as music. In the finale, where a panting figure in the orchestra alludes to heaving oar-strokes, he succeeded in pacing the film's cumulative crescendo more successfully than Revueltas himself, conducting the soundtrack in a Mexican studio. It is a cinematic ending like no other.