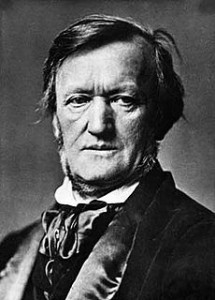 In the 1890s, when Wagnerism was at its height, Wagner's American disciple Anton Seidl (1850-1898) would lead concerts fourteen times a week at Coney Island. He mainly conducted Wagner. The concerts, at the seaside Brighton Beach Music Pavilion (capacity 3,000), included children's programs and the Seidl Society children's chorus. Seidl himself composed a work for the children, "Good Night," the manuscript of which resides at the Seidl Archives at Columbia University.
"Good Night" received its first performance since 1898 a few weeks ago as part of "Scenes from Childhood," a concert presented by PostClassical Ensemble (I'm the Executive Director) at DC's Dumbarton Church. The chorus was Washington National Cathedral Choir of Boys and Girls (Michael McCarthy, conductor), conducted on this occasion by PCE Music Director Angel Gil-Ordonez. It sounded like
The story of the Seidl Society is one of the strangest and most stirring in the history of classical music in America. It was a singular Brooklyn women's club, founded by Laura Langford. In summer, the Society presented Seidl and his orchestra at Brighton Beach. In winter, the Society's Seidl concerts at the Brooklyn Academy of Music were more numerous than those of the New York Philharmonic, also conducted by Seidl, across the river. Propagating Wagner as a spiritual therapy, the Society hosted working women and African-American orphans, presented lectures on social and spiritual betterment, reserved special railroad cars so unescorted women could attend the Brighton Beach concerts; its goal — aborted by Seidl's death — was a Brooklyn Bayreuth.
Seidl had aspirations to compose, and was working on a Hiawatha opera when he died. Though he produced numerous transcriptions for orchestra, he left only a single composition of note: "Good Night," composed and premiered in 1895. I discovered the score when researching my book Wagner Nights: An American History at Columbia University's Seidl Archive. (I've also written about Seidl and Langford in Moral Fire: Musical Portraits from America's Fin-de-Siecle). The text, a poem by Edna Dean Proctor, reads:
Good-night! Good-night! The morn will light
The east before the dawn,
And stars arise to gem the skies
When these have westward gone.
Good-night! And sweet be thy repose
Through all their shining way,
Till darkness goes, and bird and rose,
With rapture greet the day, —
Good-night!
"Good Night" was last performed on May 2, 1898 — the Seidl Society's memorial concert for Anton Seidl. Emil Fischer, a much-loved bass in his final American performance, sang Wotan's Farwell. The program also included the Dream Music from Humperdinck's Hansel und Gretel, Liszt's Les preludes and Concerto pathetique (arranged for piano and orchestra), and, to close, Siegfried's Funeral Music, for which the audience was asked to stand. Langford rose to explain that, as Fischer was sailing for Europe that very day, Wotan's Farewell would be repositioned near the beginning of the evening. This short speech effectively ended Laura Langford's public career. A Seidl monument at Brighton Beach was advocated by the Eagle; none was erected. The Seidl Society ceased to exist.
For the PostClassical Ensemble performance, the piano accompaniment for "Good Night" was transcribed (and performed) for solo harp by Jacqueline Pollauf.