A few months ago Jim Svejda of LA's KUSC, whose The Record Shelf has for years invaluably showcased necessary recordings from before the LP era, invited me to talk about my new book "On My Way": The Untold Story of Rouben Mamoulian, George Gershwin, and "Porgy and Bess." The spine of our one-hour chat was a Porgy play-list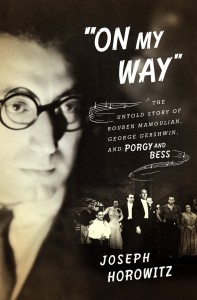 I invite you to sample (in sequence):
1.[Beginning of track 1:] From the Gershwin Memorial Concert at the Hollywood Bowl (Sept. 8, 1937), Otto Klemperer conducting his LA Phil in his own slow-motion transcription of Gershwin's Second Prelude, ingeniously transforming it into a dirge for the deceased composer. Like so many European-born classical musicians in the US, Klemperer more surely recognized Gershwin's genius than his American-born colleagues.
2.[Track 1 at 12:03:] That the Met's Lawrence Tibbett should have been the first singer to record Porgy's songs (rather than Todd Duncan, the superb black baritone from the original case) was properly controversial in 1935. And yet Tibbett's heartbreaking version of "Oh Bess, Oh Where's My Bess" will never be surpassed. And the US has never produced a greater operatic baritone than Lawrence Tibbett.
3.[Track 1 at 22:00:] Jascha Heifetz was another European-born Gershwin admirer; he wanted a violin concerto from Gershwin. He never got one – but Heifetz's own suite of Porgy tunes comprises an impressive and original tribute. It also elicited some of Heifetz's best recordings, in which Slavic pathos is mated with a quicksilver jazz sensibility.
4.[Track 2 at 3:56:] The "cultural fluidity" of Porgy – of Gershwin generally – is such that Porgy's songs can be sung any number of ways. Avon Long, who excelled as Sporting Life, applied his breathy high tenor to a terrific 1942 version of "I Got Plenty O' Nuttin'" with the Leo Reisman Orchestra.
5.[Track 4 at 8:00:] My desert-island Porgy recording, also from that Hollywood Bowl Memorial concert: Ruby Elzy, the original Serena, singing "My Man's Gone Now" for the departed composer. Elzy, who herself died young, was planning to tackle Aida. At the same time, her high-ranging soprano has some Billie Holiday in it. This amazing performance documents (among other things) the interpretive freedom enjoyed by the first performers of Gershwin's opera.