If you've been reading me for any length of time, you know I think classical music needs to modernize itself. Not that a lot of people don't think that these days, but I've been pushing the thought for quite a while.
So you'd think I might love it when the Met Opera and the New York Philharmonic hyped their new seasons with these posters, done in the most up to date corporate marketing style: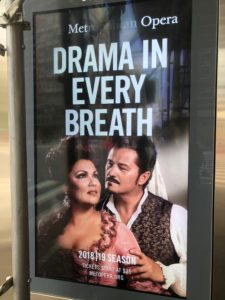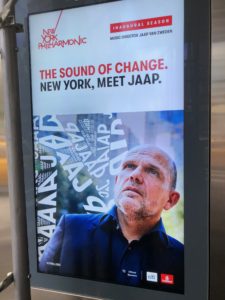 But I don't love it. To me these posters don't, simply as advertising, do much to make their case. And they promise things that aren't going to happen.
(I'm sorry, by the way, that I couldn't photograph these from directly in front. There was something in the way.)
Start with the Met
"Drama in every breath!"Well, first, the photo on the poster doesn't look dramatic. We're seeing famous singers, who come off, in this poster, like models who are posing for no purpose except to look good.
And does the Met really give us drama with every breath onstage? I wouldn't say so. This isn't the Met's best era. (See my wife Anne Midgette's review of this season's opening night.) And even years ago, when things were better, they didn't offer every-breath drama.
Which is rare in opera anywhere. In my 50 years' experience going to performances, I'd say opera is pretty much hit or miss. A few singers blaze, some light up intermittently, some just flicker. Some are perfect for their roles, in both looks and temperament, but some only meet the vocal requirements.
Sometimes there's chemistry on stage, but often not, because the singers don't really interact. Mostly they go their own way. (This is one big way that opera differs from film, TV, or spoken theater.)
At the end of the post, I'll offer video examples, to demonstrate how undramatic opera even from the biggest stars can be. But for now, a story. Years ago, I took a friend to the Met who'd never been to an opera before. He was a composer in a style far from standard classical music, though since he had the personality of a romantic artist, he might have melted at the performance. If, that is, it really gave him drama in every breath.
The performance was of a production considered at the time one of the best the Met was doing, Boris Godunov, with Martti Talvela in the title role. And here's how my friend reacted. Sometimes, he said, maybe 10% of the time, when the music and the staging came together, opera was the greatest thing in the world. But the other 90% was meaningless.
Maybe I'd give opera a higher score. 30 percent? But I haven't seen drama in every breath. And I'd think anyone who goes to the Met expecting that will be disappointed.
As for the Philharmonic…
The sound of change!
The photo shows the Phil's new music director, Jaap van Zwedeb. Aka a photo of their new music director, Jaap van Zweden. Looking, as someone I know said, like something out of Close Encounters. Like he's in the Richard Dreyfuss role, looking to the sky for inspiration.
I get that they're promoting him by his first name, just as the Philadelphia Orchestra has with their music director, who really seems to be exciting.
Maybe Jaap will also turn out to be first-name worthy. But does he really generate the sound of change? I don't doubt that — under Deborah Borda, their new CEO — the Phil is changing, for instance by connecting with the liveliest part of New York's new music scene. And their opening gala this year featured a new piece by Ashley Fure that (to judge from an excellent New York Times review by Anthony Tommasini) genuinely does seem different and arousing.
But even if Van Sweden (whom Borda didn't hire) turns out to be terrific in New York, still he seems pretty much like a standard-issue conductor. So how will he produce the sound of change? Of course the orchestra will in some way sound different when he conducts, as it did with all its past music directors. But will a thrill surge through the audience, with people all but crying out, wow, the sound of change? Somehow I doubt that.
And so, it seems to me, reality again takes second place to hype.
Doing it right
Some people of course might say — maybe with a sigh of disapproval, but still taking these institutions' side — that corporate marketing always pumps up the glitz.
But even the slickest corporate marketing can touch on truth, and that can be why it works. When McDonald's says "I'm lovin' it," maybe I roll my eyes, knowing that they want us to eat unhealthy food. But they're responding to a very real love that many people have for them, even as a guilty pleasure.
And remember Apple's famous "Think different" campaign. So very slick, but grounded in reality. It launched in 1997, when Macs weren't nearly as ubiquitous as they are now, and Apple didn't yet rule the world.
So all they wanted was for us to think that Macs were different from PCs. Which they were. Anyone could feel the difference from the moment they turned a Mac on.
Video evidence: undramatic opera
The Met Opera's video teaser for this year's opening night new production of Samson et Dalila. Using the "drama in every breath" slogan, and evidently filmed in rehearsal. Watch this without the sound, and it looks like a horror movie. Turn the sound on, and you hear Elina Garanča and Roberto Alagna yelling at each other. Which to me isn't drama. It's only yelling. To me this TV spot fails so much that Garanča and Alagna don't even seem like they could be substantial people — let alone the big stars they are — in any field.

"A te o cara" from Bellini's

I Puritani

, live performance from Madrid, with Javier Camarena and Diana Damrau, two big stars. One of my favorite moments in all opera, and one of the hardest opera arias to sing. The tenor has to be both gentle and virile, soaring up to a high C sharp. Camarena sounds fabulous, and his appearance at least doesn't contradict the hero he's supposed to be. But Damrau! Her character is supposed to swoon so much for the tenor that she goes mad when later on he disappears. And what does she do here? She preens. I don't see any interaction between her and the man who, at this moment in the opera, she can barely believe she'll be allowed to marry.

The famous duet from the

Pearl Fishers

, sung in concert by tenor Jonas Kaufmann and the late baritone Dmitri Hvorostovsky. Huge stars, both of them, at the top of the opera totem pole. Hvorostovsky is truly dramatic, with the vision of the woman he's singing about flooding into him from within. Kaufmann just emptily emotes. No meaning. He doesn't seem to feel much. And there's no contact between the two men. (The difference is so marked that when the two sing together, I can't pay attention to Kaufmann, even though he has the melody, with high B flats that ought to soar. Hvorostovsky — as riveting vocally as he is visually — takes over my ears.)
What happens when opera truly is dramatic:
There's a 1957 Italian film of Verdi's Il Trovatore, with Mario del Monaco, Leyla Gencer, Ettore Bastianini, and Fedora Barbieri. del Monaco and Bastianini are so aroused you can't believe their characters could be in the same room without wanting to kill each other. Which is exactly what the opera is about. And Barbieri seems deranged, murderous, and at the same time so crushed and miserable that I don't know whether to hug her or run from her.. One of the most stunning — and real — opera performances ever.