What did I learn in El Paso?
At the University of Texas in that town. Or UTEP, as it's branded itself. During my visit last week.
Of course (as I said in my last post) I learned what a special place the university is, with a mission to educate everyone from the poor and working-class, mostly Latino community in its town.
In the musical part of my visit…
I learned many things. How Zuill Bailey, the cellist — UTEP faculty member, head of the school's new Center for Arts Entrepreneurship, and Artistic Director of the chamber music festival El Paso Pro Musica — visits, over and over, local schools.
I went with him to a high school and an elementary school. The focus at the high school was kids who play music, and might want to do it professionally.
The focus at the elementary school…well, this was a special place. A special charter school, for kids from families so poor, I was told, that there might be nothing to eat at home.
The kids wore uniforms, were attentive, seemed smart and fun. Such a sense of aspiration in the air.
For the high school kids…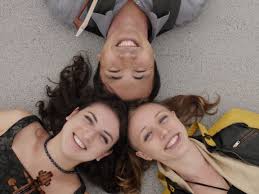 …a special pleasure was Trio Jinx, Peabody graduate students in residence at UTEP. They were also great with the younger kids, easy, fun, approachable, playing irresistible music.
But something special they could give: They're early in their careers. Which, as Zuill said at the high school, meant they were just a few years ahead of the students. And would be able to relate closely to where the students wanted to go with their music.
Likewise for UTEP students, of course. Very wise to have them there.
And then Zuill
Fascinating to hear him talk, as we drove around with him or hung out, about how he runs four chamber music festivals.
He's very business-oriented. No question about his musical knowledge, of course, or the gorgeous sound he gets on his cello.
But I was struck by his realism, by his care for his bottom line. How after years of booking artists he knows how many tickets each will likely sell, and offers fees accordingly.
And of course can offer four bookings, not just one, Making gigs with him more attractive.
I've settled on the word "unworldly" to label how…well…impractical the classical music world can be. Putting artistry first, at whatever cost, and thinking it's impure to focus on the money.
But since concerts do cost money, focusing on that makes them better. And easier for everyone. And more likely to survive.
I wonder whether independent festivals could do better if they band together. Which may be happening already. Can anyone enlighten me?
Next: things El Paso brought me personally