[contextly_auto_sidebar]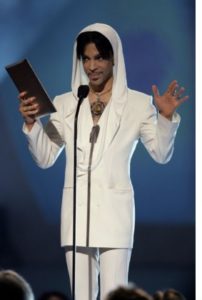 So surprising that he's gone. Or maybe not a surprise — he was so otherworldly.
Don't think I've ever known of another musician with such prodigious gifts. Wrote unforgettable hits, and also album tracks that go deep. Not that some of the hits don't!
Wrote music and lyrics, of course. Played all the instruments on many of his records. Sang with such pointed, impish seduction. (To cite only one thing in his singing — "Slow Love," "If I Was Your Girlfriend,")
His music
Created an amazing amoung of music. Produced his records. Now we're getting into territory few people have entered.
Made music in an amazing variety of styles. When he did his Superbowl halftime show, I watched with a big smile of delighted respect. As if Prince were saying, "Look, I can play arena rock as well as anyone. If I'd wanted just to play rock, I'd be superfamous for that."
Once I heard him do a blues guitar solo in a live show. Maybe 30 seconds long. For those 30 seconds he was one of the top blues guitarists who ever lived.
And out in the world
And then what Chris Richards wrote about so well in the Washington Post: How Prince appealed to all kinds of listeners. White, black, so many lifestyles. Hardly anyone does that. When I was a pop critic at the end of the '80s, I saw white audiences and black audiences. Mixed audiences for hiphop shows, but they were small. Only Prince, among the big artists, drew both white and black, in just about equal numbers.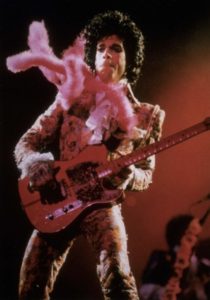 Also in the Post, fashion critic Robin Givhan: "Prince broke all the rules of fashion, and damn did he look good". (I'd love to see more headlines written like that!)
Worn by Prince, purple became a kind of soulful lament. His use of fashion was intimate and personal; it wasn't driven by labels and trends. He wasn't known for wearing a particular designer's clothes — although he once performed a long and spectacular private concert after a Versace show that left a fashion crowd breathless. The clothes were not a source of status or trendy relevance. They were his unique creative expression, his cool, impressionistic, multi-layered riff on masculinity.
Prince crossed the border between masculinity and femininity by refusing to be tied to traditional notions about what was appropriate for women and what was correct for men — about what was acceptable in polite company. He wore head wraps and scarves, and all sorts of frippery, but he never played coy or vague. In his fashion, Prince didn't exist in an androgynous gray zone. He declared — both on stage and off — that a man deserved to be swaddled in satin and velvet because he had earned it, because he looked good in it and because he was pretty sure that the ladies liked him in it, too.
(Damn, that's good writing!)
(And just look at the photos that ran with that piece. I've used two of them. Now translate the wildly different looks into wildly different music…)
And something I read just now, can't remember where, can't find it, about how accessible Prince was, how often seen, around Minnesota, where he lived all his life. Even though he was famously weird and reclusive.
Much more
Inadequate, what I've written. How sexy Prince was. How he pushed sexual boundaries in his songs. How he challenged the music business. Distribuing his music in ways of his own.
And the weirdness. Changing his name to a symbol. (His people send out a new font to print media, so newspapers and magazines could print the symbol.)
One musical style I don't think he really got: hiphop. Though maybe I'm wrong, since I haven't listened so much to his more recent stuff, when he drawd on hiphop a lot.
For me, the reent stuff was frustrating. My musician's ear tells me it's great musician's music. But my heart keeps thinking the songs don't matter much. Would love to be wrong about that!
Then his movies. Purple Rain — no one can forget that. But Graffiti Bridge? Released abruptly, without word to the press, no showings for critics, because the reviews were going to be ghastly.
I saw it, when it popped up in a movie theater in New York, a block away from where I lived. The best critics were the audience that night. Mostly black, very vocal. Shouting out good-natured abuse.
In the movie, there's an angelic female figure. Audience found her laughable. When she gets mashed by a truck, someone yelled, "About time!"
Such fun. And such a human side of Prince. Couldn't do absolutely everything.
But did so triumphantly much.