[contextly_auto_sidebar]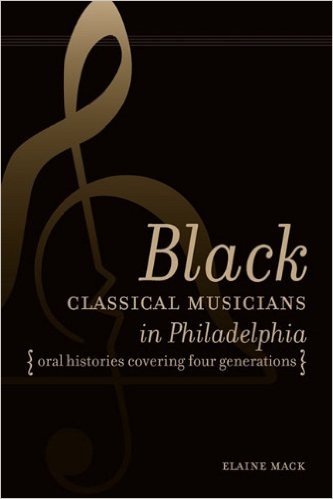 Here's an indispensable book — Black Classical Musicians in Philadelphia: Oral Histories Covering Four Generations, by Elaine Mack. It brings to life what once was a thriving community of classical musicians in the Philadelphia black community. We forget, I think, that such things existed, that in the past there was active, eager interest in classical music among African-Americans.
Which, of course, was part of an active, eager interest in the U.S. population as a whole. Though there's an irony. As Michael Morgan, the music director of the Oakland Symphony, pointed out to be some years ago, in the days when so many African-Americans loved and played and sung classical music, they weren't going to have mainstream classical careers, because they were black. In 2016 that wouldn't be the case, but the current generation of African-Americans doesn't have much interest in classical music. (Again reflecting what's happening in the whole population. I should note that Morgan wasn't speaking specifically of Philadelphia, but of the U.S. as a whole.)Americans do classical music.
Mack doesn't dwell on this irony, but instead — and wonderfully –shows us the vibrant health and depth of what happened in the past. It makes absorbing reading. I'd imagine that any U.S. city with a large black community could tell similar stories. (And in fact David Maraniss's wonderful book — Once in a Great City: A Detroit Story —   celebrates a strong tradition of music education in Detroit public schools. Which along with piano ownership by African-Americans helped produce the local musicians who helped make Motown Records great.)
Black Classical Musicians in Philadelphia is out of print, and available (through third-party sellers on Amazon) only at high prices. It's worth the money, though. And maybe you can find it at a library.
ADDED LATER: Elaine has just said on Facebook, in a happy response to this post, that her book will be available again, in various formats. That's such good news. It's a book that shows us a part of our history — American history, not just black history — that we need to remember.