[contextly_auto_sidebar]
I thought I'd do a few blog posts to honor Black History Month. Which I don't think is honored enough in the classical music world.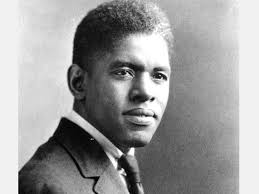 And where better to start than with Roland Hayes, a tenor born in 1877 who in the 1910s and 20s became the first African-American classical star. He died in 1977, a greatly honored man.
His parents were former slaves. He worked to support his family, even though his talent was recognized when he was young. He sang in silent movie theaters — from offstage, so no one could see he was black. He had just a sixth-grade education, but even so with special tutoring went to Fisk University in Nashville (still a prominent historically black school).
He became lead tenor of the famous Fisk Jubilee Singers, for a tour to Boston. He stayed there, and — in a stunning example of what we now call classical music entrepreneurship — rented Symphony Hall with his own money to launch his concert career. He sang in America, sang in Europe, and even gave a command performance for the King of England. He encountered racism both at home and abroad, but by the late 1920s was  said to be the world's highest-paid recitalist. He made as much as $100,000 a year, which now would be around $1.4 million.
Listen to him
Inevitably his memory is caught up in history, as he was. But he deserves to be remembered simply as a great singer, and not just as an African-American pioneer. You can explore recordings on YouTube or Spotify. Here are some I especially like:
"Go Down Moses." Hayes sang spirituals at all his concerts, wrote orchestral accompaniments for some, and recorded many. Ssomehow I was greatly touched by this one, recorded so long ago, with so much recording noise. Maybe that's in part what gets me, Hayes's voice coming through such opposition, as in life his spirit surely did. (I wonder if he wrote the striking piano accompaniment.)
Swing Low, Sweet Chariot. Unaccompanied. So powerful.
From Pagliacci, "Vesti la giubba." Once this was the world's favorite tenor aria, more or less as "Nessun dorma" is now. Maybe that's why Hayes sings it, even though normally it's done by singers with heavier voices. And yet he's just about perfect, with ringing high notes and fine Italian sorrow.
Schubert, "Der Musensohn".Not entirely perfect vocally, and some people may not love how informal Hayes sounds. But that's exactly what I like. He's personable, direct, clearly enjoying himself. And so personal (in the way that classical performances used to be).
For anyone curious, here's a Roland Hayes concert program, from a performance he gave in what was then New York's leading recital hall, in 1937.