[contextly_auto_sidebar id="HkrgFg74uvgItTDBxhVGsY6oYtLgjafA"]
"Truth to Power": That's the name of a festival the Chicago Symphony is offering from May 22 to June 5, with the idea of highlighting "music's ability to connect people and harness the power of shared experience," and to "inspire justice and fairness." 
The title, of course, is a shortening of "Speak truth to power," one of the most powerful rallying cries in politics. It comes from a Quaker manifesto, published in 1955, about the need for peace, to be fulfilled by active pacifism. That humans have that need, if you agree with the Quakers, is a profound truth, with which we should confront those who have power, and deny us peace.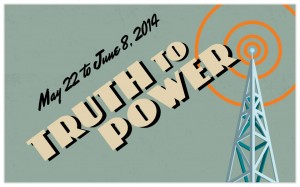 Strong stuff. By invoking it, the Chicago Symphony made me hope, if only for a moment, that these would be concerts in which classical music could  become a contemporary art, as in an earlier post I said I longed for it to be. I said I wanted to go to classical performances, "and feel not the soothing presence of the past, but the bracing life of the present."
Added later: And of course this also echoes what Peter Sachon said in his guest post about millennials, how younger people would expect classical music to be dealing with contemporary issues.
But sigh. The festival doesn't do this. Like so very much, so crushingly very much of our classical music culture, it's safely rooted in the past. In concerts and films and discussions we can learn how Shostakovich, Prokofiev, and Benjamin Britten spoke truth to power in their day. A day long past, of course. Where are the musicians speaking truth to power now? Where are the issues of our time?
There's one contemporary presentation, a new work by jazz pianist Jason Moran, in collaboration with Theaster Gates, an artist who works with spaces and voices. But since this piece isn't described in any way on the CSO website — and isn't even given a title — we can't know whether it speaks truth to any oppressive power we face now.
Compare the "Speak Truth to Power" presentation by the Kennedy Center and PBS in 2000, which with photographs and a reading of a play by Ariel Dorfman did bring alive people actively, at that time, fighting human rights abuses.
Or compare the Speak Truth to Power initiative from the Robert F. Kennedy Center for Justice and Human Rights, which uses current human rights struggles "to educate students and others about human rights, and urge them to take action" on issues ranging" from slavery and environmental activism to religious self-determination and political participation."
And even taken on its own terms, the Chicago festival is weak. What Prokofiev's Fifth Symphony has to do with speaking truth to power isn't clear. Or why Britten's  Suite on English Folk Tunes (which, says the CSO, "enchants the ear with richly contrasting orchestral colors and textures") is there. 
And why Prokofiev at all? He didn't speak truth to Stalin, even covertly, as Shostakovich did. I guess he illustrates what can happen if you don't struggle, and maybe that could be an story on the larger canvas of power and truth, but I don't see that story being told in music here.
Vladimir Feltsman will play a piano recital that includes one Prokofiev piece (prefaced by Haydn and Schubert). But there's nothing I can find on the site — certainly noting on the page devoted to his concert —  that talks about Feltsman's own intense (and, I would have thought) well-known struggle against the power of Soviet repression. Instead, he's praised for his "deft touch and expansive sonority."
And Britten! On many website pagea about the festival, we're shown a Britten quote: "It is the composer's duty, as a member of society, to speak to or for his fellow human beings." So we hear, besides the Suite on English Folk Tunes, the Sea Interludes from Peter Grimes, which (once more on the site page about the concert) we're told "portray the sea on England's eastern coast in all its power and transformative beauty," without a word about the struggle — in the opera — of an outsider (very likely gay) against the castigation of the local villagers.
Not exactly a theme that isn't much (or even routinely) discussed. It couldn't even be mentioned here?
And what about the speaking truth that Britten is best known for, his pacifism? Perhaps that plays a role in the Sinfonia da Requiem (whose history was itself initially a struggle, against the Japanese government which commissioned it, but didn't like it).
But where are Britten's two largest and most intense pacifist statements, the War Requiem, of course, and the opera Owen Wingrave? (Which shows someone from a traditionally military British family, obliterated, crushed because he won't fight?
I'll grant that doing either work, even a concert performance of Owen Wingrave, would be expensive, and I sympathize with the practical restraints on orchestras, in this age of shrinking finances. But how can you show Britten speaking truth without these pieces? And, sympathetic as I am to reality, I think this festival falls back way too often on familiar pieces that the orchestra already knows, instead of trying to forge some new, compelling path that resonates with the festival's theme.
And where are composers speaking truth to power now? David T. Little's much-praised multimedia piece Soldier's Songs — a "chilling and realistic view of our media-crazed, war machine culture, and of the nature of power in war " (says Little's website)— is being toured to other paces now. (It comes to Washington on Saturday.) Would have made a perfect addition to the Chicago festival, and of course would have sat perfectly with Britten.
I'm so disappointed.