[contextly_auto_sidebar id="xDEct08SYQ5bXn7Oms8JPB3bB0k943jL"]
So now a followup to my post two days ago, in which I said that arts marketing won't reach a younger audience unless it treats the arts as popular culture as equals.
Here's a further exploration of that. Not a how-to, but more about the point of view we need.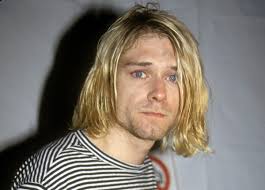 A couple of weeks ago, the pop music critic of the Washington Post, Chris Richards, had a nice piece about Kurt Cobain. Not only was Cobain the voice of his generation, Richards said. He was also a seminal guitar player, so distinctive and so central to the music that came after him, that to this day, people learn to play what he played, on the records he made with Nirvana, and then carry that into bands they themselves start.
(In a classical music context, maybe it's important to note that "voice of his generation" doesn't mean that he was its greatest singing voice. It means he was its emblem, its symbol, its musical embodiment,)
But why talk about this in a classical music blog?
Well, first, I fear that many people involved with classical music don't know that there's an extensive, serious, often scholarly, and sometimes deeply penetrating literature about pop music. I've certainly known people like that — cultured intellectuals, widely read in literature and the arts, writers, maybe, of deep and brilliant books on high-culture topics, who have no idea that there's a culture parallel to theirs, just as rich and thoughtful, but dealing with what's misleadingly called popular culture.
I say "misleadingly," because when you read (for example) an exegesis of the roots of rock & roll by someone like Greil Marcus, the fact that some of the music he talks about was popular doesn't mean that it's easy to describe or understand.
The literal meaning of the words "popular culture" aren't a problem. No one would deny that there's a kind (or many overlapping kinds) of culture that, broadly speaking, are popular. It's the connotation of the words that causes trouble, the implication, that still dances all around the words, that anything they label must be simple. Shallow. And of course commercial.
Richards' piece isn't any kind of profound statement, and I'm sure he hardly wanted it to be. But seen from a classical music enclave, it's a sweet reminder that there really is another culture, in which pop music (in all its many forms) serves as a musical lingua franca, producing artists, songs, profound cultural turning points, and then simpler things like guitar techniques, all of which vast numbers of people learn from, share, get inspired by, and often (though it's no small thing) just play with.
So that's one lesson we might learn from Chris Richards' piece. But another lesson, more important, lies in the way he calls Kurt Cobain the voice of his generation. Without much emphasis, as if it were something everybody takes for granted.
Which of course (broadly speaking yet again) it is. Though the words need some caveats. Kurt Cobain might be the voice of your generation if you were a disaffected, white, most likely college-educated kid who began to grow up in the early 1990s. If you were black, or older, or younger, or were white and came from the south and identified with country music, your pop music lodestar would be someone else.
But you'd almost surely have one.
I should also say that the "voice of a generation" tag is a Cobain cliché, no matter how true, And that to understand it you need to read something more than Richards, something maybe like what the rock critic Dave Marsh wrote a year after Cobain killed himself in 1994 and which was just republished in an email from the now-digital publication Dave founded and runs with my old friend Lee Ballinger, Rock & Rap Confidential.
There you'd be offered Kurt Cobain as the living (and then dead by his own hand) embodiment of a cultural crisis of authenticity. People in his generation thought things were corrupt, but couldn't change, and so held out for themselves an impossible standard of personal purity. (That's a simple way of summarizing what Dave says.)
But stick now with the simplest understanding of "voice of a generation" (that clichéd but still accurate phrase), which is that it stands for something real, something pop stars really can become, even if, like Cobain, they feel like phonies doing it (or maybe, at the opposite extreme, they turn it into a nasty ego trip). And even if people of varying ages , from varying demographics, have varying ideas of who the generational voices are.
Which brings me to the core of this, for anyone trying to make new friends for classical music. What's our view of people who have Kurt Cobain in their hearts, as their generational voice? Do we write them off, as potential classical music listeners, because, so to speak, they're taken, already going steady with somebody else? Or because we think they'll never understand classical music?
Or do some of us — let's search our hearts, and be honest about this — perhaps believe that if people who love Kurt Cobain would only learn to love Liszt and Schumann, that Kurt Cobain would vanish from their souls? That they went through a phase, and that now we can lead them to a better place?
Or do we think a growing love for classical music can coexist with Kurt Cobain? I think that's the best thought, and also the most (or maybe the only) productive one, if we want to treat our potential audience with the respect all human beings deserve. How can we reach out to them, if in our own hearts we reject something that they care so much about?
And once we're clear on that, another question might arise. I said (paraphrasing Dave Marsh) that, to Cobain's generation, Cobain embodied a cultural crisis of authenticity. People thought things were corrupt, but couldn't change, and so held out for themselves an impossible standard of personal purity.
That's real, concrete, profound. Alongside it, how would we describe what classical music offers? Yes, it sounds beautiful, but what meaning does it have? If we want people in Cobain's generation to love it, what can we say it gives them, alongside what they got from Kurt Cobain?