[contextly_auto_sidebar id="sPgo0Spl8NrktjOR6b3igC5anAaIHH7R"]
"A Young and Lively Audience: The Hidden History of Classical Music."
That was the title of a talk I gave last week at the Doctoral Forum, a lecture series at Juilliard. The talk is now online, and you can listen to it.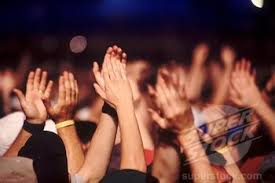 The title was meant to be provocative, of course. I talked about two things: how young the classical music audience was in past generations, and how lively the audience was in past centuries, reacting audibly while they listened, and applauding the moment they heard anything they liked. (Go here for a page on my blog site about how young the audience used to be, and here and here for things I've assigned about the audience in past centuries, when I teach my Juilliard course on the future of classical music.)
So why is this a hidden history? These two thing aren't secrets (though some people persist in thinking the audience was always old, and maybe scholars are more likely to know about the audience in past centuries than classical musicians or fans are). But even if they're known, I think their meaning isn't squarely faced — we haven't fully pictured what classical music was like in the past, with lively younger people rising up to cheer (or howl disapproval) during the music. It's night and day, compared to the formality and silence we expect now.
I started with two snapshots. One was a 1937 study of the orchestral audience in the US, reported in a 190 book I cite a lot, American's Symphony Orchestras and How They Are Supported, by Margaret Grant and Herman S. Hettinger. Surveys were taken at two orchestras, and the median age of the audience found to be in Grand Rapids, MI, and 33 in Los Angeles. You can read that for yourself. I've scanned that part of the book, and put it online.
And the second snapshot was a letter Mozart wrote to his father on July 3, 1778, when he was in Paris, and among other things writing his Paris Symphony. Here's the key passage, about the symphony's premiere:
[I]n the midst of the first allegro came a passage I had known would please. The audience was quite carried away — there was a great outburst of applause. But, since I knew when I wrote it that it would make a sensation, I had brought it in again in the last—and then it came again, da capo! The andante also found favour, but particularly the last allegro because, having noticed that all last allegri here opened, like the first, with all instruments together and usually in unison, I began with two violins only, piano for eight bars only, then forte, so that at the piano (as I had expected) the audience said "Sh !" and when they heard the forte began at once to clap their hands.
So back to the hidden history. I think we can't quite imagine what the Metropolitan Opera (just for instance) was like, when in 1923 teen fans came to the farewell performance of a favorite diva and strung banners from one side of the balcony to the other. Or when, as Grant and Hettinger report, Harvard students disrupted a performance by the Boston Pops, demanding to hear the Brahms Academic Festival Overture, because in it are university songs the students often sang.
And even if we know that Mozart's audience clapped during the music, we may not fully grasp
that it was Mozart's intention for the audience to applaud; that the sublime Mozart wanted his audience to interrupt his music with applause
that he wrote the Paris Symphony as entertainment
that the piece — certainly in Mozart's eyes, once we understand his intentions — might be incomplete without applause during the music
that we should study the symphony as music structured to be entertaining, and not, more academically, only as music structured with sonata form
and that we should play the piece in a way designed to arouse our audience
I won't say more here. You can listen to my talk. And hear everything I've written about here, and more, especially my conclusion: that the freedom and liveliness of classical music in the past can open possibilities for what we do with it now, as we transform it to adapt to our present culture, and guarantee its future.
The talk is 50 minutes long. The conclusion, if you want to jump to it, begins about 44 minutes from the start.