From Greg: This comes from one of my Juilliard students, taking my course on the future of classical music. I asked her to write something about one piece of reaching we'd done, an excerpt from Richard Florida's book The Rise of the Creative Class. I assign this in a class session called "Classical Music and the Rest of Our Culture," and it's about what nightlife is like for youngish creative people (who might be artists, designers, tech people, entrepreneurs, filmmakers, you name it).

Florida defines these people as "the creative class," and argued in his famous book that cities with a large creative class are primed for economic growth. That's been challenged, but his description of what these people do at night — and how they do it  — seems right on to me, and to many others who read it, Caroline included. 
Key to what Florida describes is a sense of authenticity — that when you go out at night, you want something real, something created by people you can identify with (and in many cases meet at their performance or presentation). This would be something local, something that feels like the city it's part of. Something fluid, eclectic, growing organically from the street — full of clubs, coffeehouses, bars, galleries, and performance spaces — where you find it. Something you could go out at any time to find, without limiting yourself to a formal 8 PM start. 
There's more. Read the Florida excerpt, if you like, to see what Caroline is reacting to. But what's crucial is what Florida excludes from the creative class's nightlife. Symphony concerts. Opera. Ballet. And also, though he doesn't say this specifically, big-time pop music shows. Florida says the creative class doesn't love generic big-box experiences, and a big pop show would fit into that. 
What I ask my students to think about is where classical music fits — or could fit — into this. An immediate problem, especially after you've read Florida carefully, is that even a fine classical concert might feel generic. No matter where you went, you'd hear more or less the same music, played and presented more or less the same way. Nice, but it doesn't make a strong connection. 
Which is why Caroline, reacting to Richard Florida, used the word "dread." If what Florida describes is what our new young audience — the one we're looking for — wants, then we've got a long way to go. I think we're on our way. Changes are happening. But the big institutions, especially, have a lot of thinking to do. 
Over to Caroline (who, please note, defines herself as a member of the creative class audience):
About the Richard Florida excerpt – I had to go back and review a bit of it but in doing so, I realized more of what I felt reading it the first time. Dread. The article made a lot of good points, the main one to me seemed to be that these creative class people seek out the authentic scene over the generic or one-time experience because it allows them to personally connect and even control the experience. It allows them a much closer and personal interaction not only with the music but with the other people attending and the musicians themselves. It is also less expensive and one can get a variety of different experiences just in one night.
The reason say this article gave me a sense of dread was because in a lot of ways I've experienced this myself and is what I find myself doing most of the time. I don't particularly enjoy watching the New York Philharmonic because their performances don't tend to move me or connect with me on a personal level…and I'm a classical musician.
The tickets are also much more expensive which impacts how much I can go. Also, you can't really socialize at the event and many times it even ends up feeling like it isolates you. On the other hand, I attended a Philadelphia orchestra concert while visiting Philly and was blown away. They offer student price tickets for $5 and thanks to the level of engagement and Yannick, the new conductor, I felt a much more personal connection to the music and everyone in the hall.
The thing is, I'm not really sure how to make the orchestral concert going experience more like the creative class experience. Orchestras are trying to do more pop or theme nights to draw different categories of people but to me it just seems like they are selling out a bit/going generic. To me, that wouldn't draw the creative class people. I was thinking maybe having more new music programed and drawing on local composers would help but I think a big part of what this class of people desire is the closeness of the setting and the social aspect of the scene.
Something else that might help is to take smaller groups of the orchestra and have them play in local venues to connect with the creative class people, which would then maybe draw them out to the classical music concerts because after meeting and hearing the musicians in a scene where they feel comfortable they might better connect in the classical music scene. Other than that though, I really have no idea how to deal with this issue! Hope others do.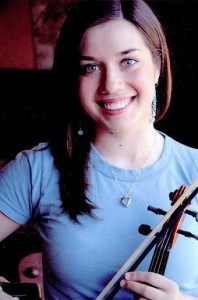 Caroline Gilbert is currently pursuing her Masters of Music at Juilliard, studying with violist Samuel Rhodes. In 2010, she attended Keshet Elion mastercourse in Israel and her performance was broadcast on the radio in New York. She went on to play with New York String Orchestra at Carnegie Hall, YouTube Symphony Orchestra in Sydney, Australia, and the Schleswig-Holstein Festival Orchestra in Turkey, Spain, and Germany. When she was an undergraduate at Indiana University, she won the concerto competition, performing Hindemith's Der Schwanendreher as a soloist with the IU chamber orchestra, and performed at the Kennedy Center in Washington D.C. as part of the "Conservatory Project."  She will be graduating after this semester and will attend Tanglewood Music Center for the second summer.