[contextly_auto_sidebar id="8ztu9nCruuPSlwrEiH4EX1JvU3HhSHZT"]
A British journalist wanted to interview me about the Chicago Symphony's  new "Sounds and Stories" online multimedia magazine. So of course I looked at it.
And I was so very sadly disappointed. What a good idea, I thought, to launch an online magazine, so people interested in the CSO or in classical music can read things they'd never get in standard media, where classical music is covered less and less. From the moment I got the CSO's press release about this, I was cheering for them.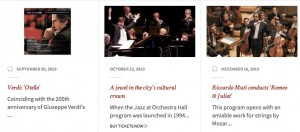 But what they've done, I'm so very sorry to say, is deadly. Or at least seemed to be when I went to its home page. Which looks boxy. (Picture an endless grid of items like those on the right, many without photos, scrolling, scrolling, scrolling down the page).
And, oh, the featured headlines (shaking my head):
Cristian Macelaru, a rising star on the podium
Emanuel Ax and the Brahms Project
And one I saw yesterday, which is gone today, something about the orchestra's on-tour performance in Luxembourg, with a headline just as dull as those I've quoted, and a subject numbingly telling us that Riccardo Muti had conducted (big surprise) Beethoven's Fifth.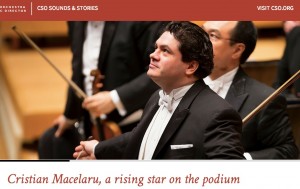 "Sounds and Stories"? There aren't any stories in these headlines. What would make them stories would be lively details, something that happened to Macalaru as his career grew, some unexpected thought that Ax might have about Brahms.
Some headlines are a little better, like the one about the orchestra returning from its tour: "Day 13: Home again, home again." And the Macelaru story, if anything could induce you to click to read it, turned out to be lively, though the Brahms story wasn't.
But here are other snoozy headlines from the site (you've seen some of them already in the first graphic, above):
Marking 20 years of excellence with the Chicago Symphony chorus
Verdi: Otello
A jewel in the city's cultural crown
Riccardo Muti conducts "Romeo & Juliet"
The CSO mourns the death of Claudio Abbado
To see what I mean about telling stories in a headline, look at just about any news or culture website aimed at general readers. From the Chicago Sun-Times entertainment web page:
Anna Deavere Smith examines our good side
Could "'GIRLS' make it in Chicago? We think so
He's only 30, but WFMT's new program director David Polk is a seasoned player
From the Chicago Tribune:
In this revisionist 'Hedda,' she knows what's coming
Album Review: Warpaint's patience pays off
Drake kicks off a new year, new point of view on 'SNL'
From NPR's music website:
The 'Ode To Joy' As A Call To Action
A Gramophone And Mozart, Or How I Fell For Opera
Note To 'Downton Abbey' Viewers: Nellie Melba Was A Big Deal
How Do You Know If You'll Love a Song Forever?
"Made for This:" The Rootless Life of a Roving Musician
Tequila and the Theramin: A Day in the Life of Alt-Latino
From "Sinfini Music," a British classical music site aimed at new listeners (some of the life here is in the subheads):
Christopher Gillett: Let's talk dirty…money
Paul Morley: Ripping into the classical charts. Middle of the road, unassuming, a modern enemy of civilisation
Label profile: Hyperion. The very model of a modern British independent.
Claudio Abbado, by Norman Lebrecht: Recollecting a conductor who put music above all else
Here's the "Sounds and Stories" Abbado subhead:
The Chicago Symphony Orchestra and Music Director Riccardo Muti mourn the passing of acclaimed conductor Claudio Abbado, who, among his many musical achievements, was the CSO's principal guest … [etc]
Deadly.
Why this matters: The CSO is making classical music seem deadly dull, even moribund, at precisely the moment when they (and all of us in classical music) need to interest new people. "Sounds and Stories" tells the world that nothing — or at least nothing interesting — ever happens in our field. Just performances of classical masterworks by great (or rising) classical stars. If you already care, fine. But if you don't — if you're one of the new listeners we want to reach, and you're used to headlines like the ones not from the CSO I quoted — then why would you care about anything "Sounds and Stories" gives you on its home page?