[contextly_auto_sidebar id="0r9ca5TFWpUXf04Mo0vvkAc7rPMbjw1M"]
There's been a lot of fuss online about a piece that showed up on Slate, about the death of classical music. Well, maybe it meant to be about the decline of classical music, and certainly included a strong array of facts and figures, more than I've usually seen in writing on this subject, no matter what point of view the writer take.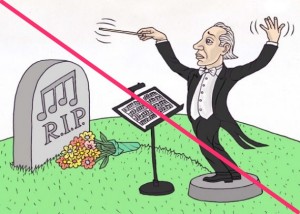 But because the headline on the piece was "Requiem: Classical Music in America Is Dead"…because of the graphic I've reproduced here, which led off the piece (and which I've crossed out, because I disagree with what it's telling us)…and because the piece began with a quick one-liner, more clever than wise, that made a joke about classical music being dead…because of all these things, people understandably think the piece is about the death of classical music.
When it comes to classical music and American culture, the fat lady hasn't just sung. Brünnhilde has packed her bags and moved to Boca Raton.
Because this has stirred up so much fuss — and because I was interviewed for the piece — I thought I'd say a few words about it. Of course I had nothing to do with the context anything I said was put in (though I do think my quotes were accurate). Or with what larger points the piece might make.
But I do think it's both wrong and unwise to say that classical music is dead. Unwise, because the statement is imprecise. Do we mean the music itself is dead? Or the industry supporting it? Has Beethoven lost all vitality and meaning, or is it just your local orchestra?
That's a minor quibble, though. What matters most is that the statement is — so very clearly — wrong. Classical music may be in all kinds of trouble, but it plainly isn't dead. The music still gets performed. Many people love it. Many people learn to play it. The institutions, troubled as  some of them may be, still function. Even if you think that they're declining, even if you think some of them will be out of business in a decade, they still exist.
And then, as the piece in fact does say (though without the force of its death one-liners; I only quoted one of them), classical music is changing. New things are happening, vital new things, which can — and very likely will — transform the field. So far from being dead, classical music is reviving. And may be transformed. Reborn. Come dramatically to more invigorating life than it might be showing now. 
So when we talk about the problems that the field is having — and what dark places they might take us, if things don't change — we ought to use more measured language. That's why I don't talk of life or death. Instead I try to say, more carefully, that classical music, in its present form, as an enterprise in our society, might not be sustainable.
Which of course is because of that familiar one-two punch, declining audience and funding. And then we have to add, very quickly, that things are changing, and that the field may change enough to be sustainable once more, though my belief (which you're free to disagree with) is that things will have to change a lot. And that when the changes have deeply taken root, classical music will look, much more than it does now, like the culture that surrounds it.
It's always good to restate these things, to keep our discussions sane. I'd add that, at least for me, it doesn't matter much that someone uses scary language. I take a longer view. It's just a momentary outburst.
But I do understand why people get upset. Some, I think, don't want to believe that classical music really is in any danger, because they love it so very much, and so to say it's dead outrages them. Others (out of just as deep a love) are working hard to fix the problems, and so they, too, are upset, because they so passionately don't want classical music to die.
Maybe some good can come from this Slate piece, if it inspires some of us to do even more to fix the problems classical music has.