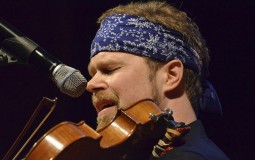 Here's a thought from my friend and Juilliard colleague David Wallace, a violist, composer, teaching artist, and — as Doc Wallace — a Texas fiddler. And much, much more. His subject? All the issues he, I, and so many others thrash out, about classical music, its problems, its future, its place in our culture. Everything discussed in my blog.
At some point…but let David tell it:
At some point, self-marketing that surfs the "What's wrong about classical music wave, and why I'm not that" is going tobe blown away by marketing that simply brushes those issues aside with the fresh perspective of "I'm what's awesome about everything; so much so that you don't even remember that those issues exist."  That's a perspective that comes from a couple of decades teaching and concertizing in public schools.
At some point, we've got to move past our discussions, and just exult in what we do. And once people respond — once a new audience starts coming to classical music, without any fuss, without any issue, just because the performances speak vividly to them, and they want to be there — we'll be able to shed our discussions, and just be.
I don't say this enough, but with David's help, I'm saying it now.