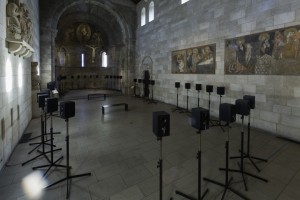 Something lovely from my friend Carole Adrian, who's Assistant to the Vice President and Dean of Academic Affairs at Juilliard.
She emailed me and a few other people about a sound installation by Janet Cardiff, called "Forty Part Motet." It's at a place not normally known for contemporary art, The Cloisters, New York's famous museum of medieval art and architecture.
Here's what Carole wrote (which I'm quoting with her permission):
I went yesterday, and it is a transcendent, transformative experience.  She has individually recorded the forty voices in a Thomas Tallis motet, sung by the Salisbury Cathedral Choir, and then placed forty speakers in an oval around the perimeter of a small stone chapel at the Cloisters.  The piece surrounds you so completely that you feel you ARE the music — it was astonishing to hear, and to see the awe and wonder on the faces of other listeners.  I was so transfixed, I stayed to hear it re-play five times, and still could hardly pull myself away! 
You can also walk around the room to the individual speakers, and hear each part individually sung.  When the 11-minute piece seems to be re-winding, if you go up close to some of the speakers, you can hear the choristers talking — the mics were on before they began to perform.
It was so moving — I encourage you to do everything you can to get there and experience it, if you haven't already.  Admission is pay what you wish (despite the sign at the admissions desk), and the piece runs as a loop all day long.  The installation will be up until December 8.
Thanks, Carole.
There are so many things that we can do with music…