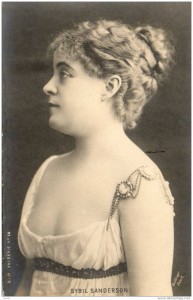 October 12, 1891: The young and wildly beautiful American soprano Sibyl Sanderson — able to sing G above high C — sang Massenet's Manon in Paris and had the triumph of triumphs:
The sold-out theater was filled with the upper echelons of Paris society — literary, social, and artistic.…
Paris took leave of its senses. Never had it seen such witchery.…
The greatest artists, writers, and musicians of France flocked to the artists' loge to congratulate [Sanderson] after every act.…
When the star and her mother finally emerged from the stage door [after the performance], cries of "Vive Sibylle" rang through the night air. Scores of youths from the gallery had been waiting impatiently for her appearance. Unhitching the horses from her carriage, they fastened ropes first to it, then to themselves, and pulled her home through the city streets…
Paris could not sleep that night.…Time and time again the students choruses the words of the Gavotte [from Manon], "Let us profit by our youth," with the soprano answering them, "Let us love, laugh, and sing, for we shan't be young again."…
Performances were sold out three weeks ahead, with the American linnet triumphing three nights a week.…It became a nightly ritual for all of Parisian society to troupe to the artist's loge between acts and pay homage to the heroine.
This from Jack Winsor Hansen's The Sibyl Sanderson Story: Requiem for a Diva. 
And in May 1893, Hansen writes, Sanderson triumphed in Saint-Saëns' Phryné, an opera written for her, which
became so popular that the Opéra-Comique presented it four times a week until the close of the season in July.
Manon (repeated, as we've read, three times a week) had been so popular that the Opéra-Comique management had to sell tickets to other operas at half price. All their audience wanted to see was Manon. 
There's more to the Sanderson story: her wild sexuality, Massenet writing Esclarmonde and Thaīs for her, the assumption shared by all in Paris that she was Massenet's mistress, though she wasn't.
But what we might note here is how opera functioned as a popular art. It lay at the heart of cultural life for everyone from students to intellectuals, and was milked commercially at least by the Opéra-Comique, which repeated its hit shows as much as the market would bear.