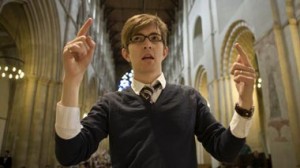 Maybe Gareth Malone isn't a great name in the US, where I live, but in Britain he's taken choral music to new places, serving, as he's said, as an ""animateur, presenter and popularizer of choral singing."
He got famous for a BBC reality show, The Choir,  in which he taught choral singing to teenagers. But to get the full flavor of what he does, consider this. To quote his Wikipedia entry) he
presented a children's programme for CBBC, The Big Performance in which ten keen, but extremely shy, young singers took the opportunity to overcome their fears. They sang for a larger audience each week, taking it in turns to be the soloist and in the final week they performed for BBC Proms in the Park.
Or think of another reality choral show, Military Wives, in which (quoting his own website now) he
forms a choir of military wives from two army bases in Devon – the Royal Marines Base Chivenor and the Royal Citadel, Plymouth – who learn to sing while their husbands/partners deploy for a 6 month tour of duty in Afghanistan.
They sing to the local town of Barnstaple to help them understand their often difficult lives, at the Commissioning Dinner at the Sandhurst Officer Training Academy to get the military seal of approval, to their men at their Homecoming Medals Parade when they return from war, and finally in front of the Queen and Royal family at the Festival of Remembrance at the Royal Albert Hall.
I saw them on British TV. They sang wonderfully.
In November he'll launch It Takes a Cboir, a show on the USA Network on which he'll travel around the US, getting communities to sing. But I'm mentioning him here above all for his new British project, an album called Voices, on which a choir of 18 to 25 year-olds sing choral arrangements of hardcore rap, rock, and R&B songs.
Malone's point, is to show that this music can fit right into the British choral tradition, and if you read the story on his album in The Independent, you'll see that this isn't a crazy idea at all. On the web version of the story, which the link takes you to, you'll hear "Guillotine," a song by Death Grips, with militant political lyrics and a very hardcore sound. Plus the Voices version, a radical reinvention of the song, completely enmeshed in a classic British choral sound, in which one line of the original lyrics gets repeated over and over: "Hidden art, between and beneath, every fragmented, figure of speech."
To judge from what I heard of this, it's as serious an art project as you'll find anywhere, challenging from any point of view. And an inspiration for some of the many directions classical music can go.
To quote Malone:
I wanted to challenge what "straight" British choirs consider to be appropriate repertoire. I hope this is a watershed moment for choirs: they can do anything.