Questions faculty members at a music school asked me, in a discussion of new ways to train musicians for classical music's future:
"What about artistic quality? Do we now focus less on this, and more on business skills and finding a new audience?"
My answer: No. Of course we all — all of us in classical music — have to put artistic quality first, as I hope we always have. Or else what's the point? Especially if you want to reach a new audience. You'd better be at the top of your artistic game, because if you offer routine performances, your new audience will walk away.
So if you're creating a new curriculum at a school, with a new focus on the future, put artistic quality first. Make that a founding principle, something you'll never compromise.
"What if I'm not a new-style musician? How can I teach students who want to be that?"
My answer: You need to be open to what they do. Ask them to tell you their interests, their dreams, their ideas for reaching new places. Talk about all that with them. Ask if they're getting the help they need to reach their goals, and think about who can help them, if you can't.
And be open even if their ideas at first seem crazy. Once a student of mine, a pianist, wanted to play the movements of the Brahms F minor sonata in reverse order. Her teacher more or less suggested the death penalty for that. So in our dawning new world, be open to the thought. Say it disturbs you, if it does, but put it on the table. Maybe ask the student to play the piece for you this way. See how it sounds. Maybe the idea isn't so crazy. Maybe it's something that works for the student, and you can agree to disagree.
Or maybe it's truly a bad idea. Merely putting the idea on the table doesn't mean it has to be carried out. And remember: Even if the student does something that you might think is wrong, it doesn't damage the piece. All our masterworks remain with us, pure and untouched, and most performances, in any future I can foresee, will be pretty much in standard form.
And I offered one more thought. Is there any dream this teacher had, something she'd longed to do, but hadn't thought possible? Maybe she, too, in some small way, could be a musician of the 21st century.
***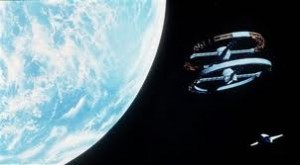 Nice start to the New York Philharmonic's season, last week, before their official opening gala (which happened on Wednesday). They focused on film music. They had a panel discussion, which looked like it went fairly deep (with Coen brothers on the panel, along with a neuroscientist), asking how music and moving images work together.
They also had an exhibit, collaborating with the library of the Academy of Motion Picture Arts and Sciences, in which they showed documents and photos about the music in 2001 and in several Hitchcock films, including score facsimiles and correspondence between composers and directors.
And then two concerts: one of music from Hitchcock films, the other a screening of 2001, with the Philharmonic playing the score live. The entire score — as I hadn't realized — is classical music, including (as most of us know) the Strauss Zarathustra  fanfare, Ligeti, and the Blue Danube Waltz. But there's nothing else. No score written for the film.
I can imagine that the Philharmonic — or any great orchestra — playing live to the film would sound glorious. Nor is it easy to do. Coordinating live music with the precise timing of a film is always tricky.
I like all this. I'm not saying other orchestras haven't done similar things, but the Philharmonic offered quite a full package. And, whenever anyone does something like this, it's a way to extend what classical music institutions do, reaching out to the world around us.
***
Something less happy, at least for me, though one person I told about it said it didn't matter much, because (or so she said) press releases always exaggerate. (Apologies to all my publicist friends. I guess some people really see you that way.)
But I wasn't happy to read a release about Ensemble HD — a group of Cleveland Orchestra musicians who play in clubs — that called what they do "groundbreaking," as if no classical musician had ever played in a club before.
And in fact the release made no mention of any other classical musician ever before doing any such thing. I don't at all mean to say that Ensemble HD and everything they do might not be wonderful, might not reach a large new audience (as the release said they did), might not be a big step for the Cleveland Orchestra to take, giving enthusiastic support for the group.
But position the story that way. Say that this represents a new stage in the evolution of classical music played in clubs, the participation of large institutions. And don't imply that no such performance ever happened before, that the mere fact of playing in clubs means that new ground has been broken.