No Friday post today. I'm on vacation until Labor Day. My wonderful assistant will approve comments, so anything anyone says here will appear on the blog. But I won't be responding.
I hope you all have a wonderful August. Restful, productive, whatever your hearts desire.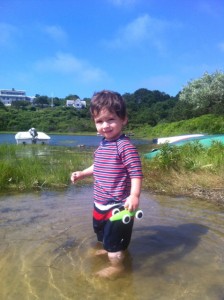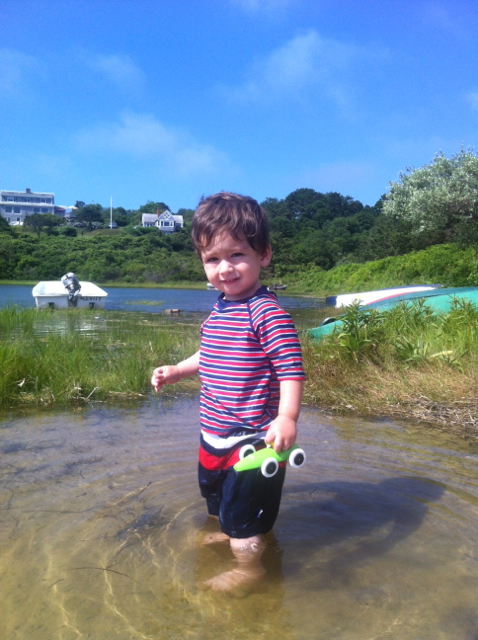 And I'll leave you with a photo of my little boy doing a vacation thing — standing shin-deep in the water, close to knee-deep, holding one of his cars.
Plus a playlist. Some of his favorite videos. You'll see what good taste he has!
The Three Stooges, Micro-Phonies. In which (as I mentioned in my Monday post) they sing, sort of, the Sextet from Lucia. Here's a link to the second half of the short film, where the singing happens. You can figure out how the situation developed. If you want the whole film, it's here.
"Good Morning," from Singing in the Rain. 
"You Two," from Chitty Chitty Bang Bang. (I thought this was syrupy, when Rafa's mom first got him watching it. And certainly the orchestra won't let us alone, winking and poking us. But I've come to appreciate the real tenderness in the song, plus how deftly the Sherman Brothers, who wrote the thing, place the notes of the simplest diatonic scale.)
Madeline Khan and Grover, from Sesame Street. Who sings better? It's a tossup. Though voice students might note how solid her breath support is.
He also loved the "Dance of the Hours" from Fantasia, but the clip has been blocked on YouTube. As a copyright violation, which, of course, it was.
All of these are fun. A good note to head for vacation on. And Rafa watches all of them with close attention!