Great fun. The Three Stooges sing opera, in a 17-minute 1945 short called Micro-Phonies. Or sort of sing opera. Or fake singing opera (hence the title).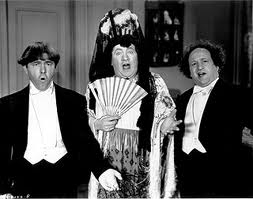 For those who aren't Three Stooges fans, the first half might be slow going. But the second half, in which the Stooges sing "the sextet from Lucy" at a rich snob's house party — that's priceless for anyone.
And the sextet (abridged) works really well as a trio. Seriously! (Bel canto experts already know that one of the soloists in the piece, the mezzo singing Alisa, is really just doubling a chorus part.)
A few thoughts about the movie (which are optional; I really put the film here because it's fun):
It shows how large a part classical music played in popular culture back in the past. Think also of A Night at the Opera, many Bugs Bunny cartoons, Fantasia (even though that film was, comparatively speaking, a failure). Not to mention innumerable Hollywood films, and innumerable orchestras broadcast by all the US commercial radio networks.
Note the way the rich snobs are dressed at their party, with the men in white tie. That gives a double context to orchestras wearing white tie, then and now. Back in 1945, white tie wasn't unknown outside of orchestras, so for musicians to wear it made a little more sense than it does now. But it was also rich peoples' garb, so orchestras were showing, by wearing it, that they had close connections to high society.
And it's fun to hear, in the film, the Strauss waltz Voices of Spring as a vocal piece. We'd frown on that today, but why not? It's fabulous fun for a coloratura, and I think would be a huge hit if someone sang it on a concert program. New audiences, I think, would especially eat it up, because it serves both as real music and as a fabulous stereotype of how opera singers sound. Which makes it perfect for our current (if you're younger) age of irony.
(Although I see that Kathleen Battle sang it at a New Year's Eve concert in 1987 with none less than Karajan conducting. And it sounds so staid, so classical! Without half the verve as the performance in the film, sung by a real soprano, not by the Stooges.)
Finally, the piano accompanist in the film has terrific flair. The rhythm of the waltz is enough to get you out of your seat dancing. (Karajan can't touch that.)
Watch the movie. It's fun, with no need for all these footnotes.