Here's something I've mentioned on the blog before. Also something I assign in my Juilliard course on the future of classical music.
But it's worth showing you again. Back in the 19th century, pianists improvised preludes to everything they played in recitals. Preludes either simply to lead into a piece, or maybe also to make a transition between one piece and another.
This survived even into the 20th century, into the age of recording. And Wilhelm Backaus — a great German pianist of the old school was doing it as late as the 1960s. (He was my introduction to late Beethoven sonatas, which I had with him playing on a treasured LP when I was in high school.)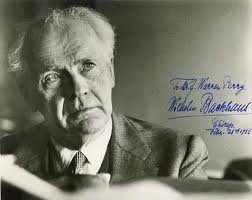 So here he is improvising a prelude in 1969, on the last recital he ever gave. First you hear someone saying in German that Backhaus isn't well, that he won't play the next piece listed on the program, Beethoven's Op. 111. Instead he'll play a short Schumann piece ("Des Abends," though the title isn't announced.). Which he then plays, so beautifully, with a touching prelude improvised to lead into it.
See what you think. For me, the prelude settles my mind, prepares me to listen. And puts Schumann in the loveliest of frames. I wish pianists did this today.