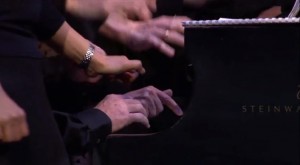 Crazy fun.
Twelve teachers from the Washington Conservatory (a community music school) play Monti's "Csárdás," a famous old chestnut for the violin. Here they're taking turns on the piano. Truly crazy.
How'd it happen? The director of the conservatory knows a producer at the TEDMED conference, an annual April gathering at DC's Kennedy Center, where health and science professionals brainstorm and collaborate. Could the conservatory, the producer asked, come up with a musical metaphor for fun, creative collaboration?
This was the result. Great fun. And creatively collaborative. So glad there's a video!