Set in stone
From the University of Chicago comes a major study of arts building — the boom, during the past two decades, in building major arts facilities, including many performing arts centers.
The study (called Set in Stone) examined 700 building projects, launched between 1994 and 2008. And its conclusions suggest that caution in building might be a good idea. To quote a quick overview available online (along with the complete final report): "The research we conducted does indeed point to substantial evidence that there was overinvestment during the building boom."
Overinvestment meaning that facilities, once built, were underused. And also that many of them might not have been affordable. Many organizations, the overview says, "experienced financial difficulties post-building. Eighty percent of the projects we studied ran over budget, some by as much as 200 percent."
Worth reading, to say the least. Anyone with a serious interest should go to the study's main website (the first of my links above), since they've made endless details available, far more than just the overview and final report.
 From Paper to Pixels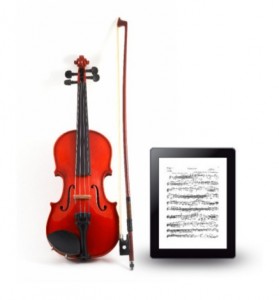 That's the title of a really terrific book by Hugh Sung, a guide (as he describes it) "for musicians looking to make the transition from paper sheet music to digital readers and apps."
Which is an important subject! If you're not convinced in the first few chapters that this is a transition you have to make, I'll be amazed. The book is fun to read, deeply thorough, and informed by Sung's own experience as a musician. It's completely convincing, and tells you everything you have to know, about (again quoting):
Being able to carry hundreds of pounds of music in a 1.2 lb device
Finding any piece in your library instantly
Marking up your scores non-destructively with colored inks and highlights
Changing the size of your music to maximize the view on a tablet or computer screen
Controlling multiple iPads to keep everyone on the same page – literally
Turning pages hands free
And much more!
I'd give this my highest recommendation. You can buy it here: $9.99 as an ebook, $19.99 for the print version (available August 1).