Sometimes some of us in classical music talk and act as if we know very little about the outside world. This hurts us gravely. Here we are, losing support in the outside world, but unwilling to poke our heads outside our bubble, to learn about the people we so badly want to reach.
Sad example: a very nice man (I know him slightly), who's been a musicologist, a university president, and the head of a major foundation. At the League of American Orchestras conference last month he received an award for his foundation work, and made what I'm sure he has no idea was a bad faux pas, when he said a few words of thanks.
What was the faux pas? This gentleman of the arts took a moment to deplore what he called the "sports culture" in America. Or maybe he said "the culture of sports." I don't precisely remember. 
He made his remark far more in sadness than in anger, in a gentle voice. And I know where he was coming from. This is a familiar trope  —people in the arts often deplore our wider culture, seeing it as shallow, ugly, thoughtless, whatever. This man's example happened to be sports. I imagine he thinks sports are loud and brainless, and that we focus on them instead of thinking of deeper things.
And why was this a faux pas? I'll put aside, for now, any question of whether our love of sports is truly harmful. (Spoiler alert: I'm a sports fan.). The faux pas here was simpler. The man, speaking so gently, had no idea how tactless he was. Tactless, because the conference was held in St. Louis, and St. Louis is famously a sports town, a place where people are crazy for sports. 
Speaker after speaker at the opening session praised the city, urging us all to sample its wonders. But now we had someone — though he hardly meant to do this — putting St. Louis down, saying that something St. Louis famously likes is bad for us. I'm sure this man thought what he so gently said was something we'd all agree with. 
But instead — though he hardly meant to do this — he insulted the League's host city. And that, I fear, was just the start. Many people in the arts in fact love sports, and that includes people in orchestras. It took me 30 seconds with Google to find that the St. Louis Symphony — wearing baseball gear — played a tribute to the St. Louis Cardinals during last year's National League championship series. (Which, sadly for people in St. Louis, the Cardinals lost.)
If you follow the link, you can watch this on video. With wonderful verve — is David Robertson a baseball fan? — and wearing baseball gear, the orchestra plays a spiffy arrangement of  (what else?) "Take Me Out to the Ballgame." 
So now our speaker has — of course again without meaning to — taken public issue not just with the host city, but with the host orchestra. And with other League orchestras, too. Last Saturday The New York Philharmonic teamed with baseball great Joe Torre (and Mariah Carey) for a charity concert linked to the baseball All-Star Game, which was played on Tuesday in New York. Torre recited the classic baseball poem "Casey at the Bat," in a musical setting by Steven Reineke, music director of the New York Pops.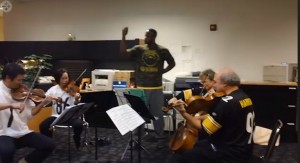 The Pittsburgh Symphony has a long history with the Pittsburgh Steelers. Max Starks, a  6-foot-8, 345-pound tackle on the team, served on the orchestra's board. A string quartet from the orchestra visited the Steelers,  played for some of them. One player conducted, another did a hilarious dance. Great fun for everyone.
You can watch that on video, and here you can see a photo of the orchestra waving "terrible towels," which fans at Steelers games wave to cheer the team on, and which (says Wikipedia), are "widely recognized as a symbol of the Steelers and the city of Pittsburgh." These towels have been taken to the top of Mount Everest and into space. Sales of them have raised $3 million to help people with mental and physical disabilities. Why shouldn't the orchestra players wave them? Especially — as I can tell you from being in Pittsburgh, and seeing fans throng the streets when there's a game — the city goes crazy for the Steelers.
Any of us, in a few more minutes with Google, could find many more examples.
I don't want to hit too hard on this. In the midst of a somewhat disorganized conference-opening session, echoing in the big concert hall where the St. Louis Symphony plays, I doubt the remark I'm deploring had much effect. But still it was — so gently — clueless. The fine man who made it clearly had no idea that orchestras and sports have many close connections, or that what he said challenged so many things that orchestras do. And this, at a time when the ruling mantra in the orchestra world is to get close to the community!
We need to do better than that. We need to understand the world we live in, and reach out to be part of it.