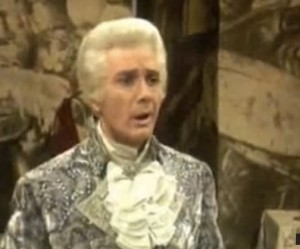 For anyone who loves opera -—and, maybe, even people who don't — here's an astonishing performance by Franco Corelli, singing "Un di all'azzurro spazio," from Andrea Chenier. Corelli's power, focus, conviction are all so strong that you might get swept away, at least in places, even watching the video without any sound. And with the sound, it's enough to make you believe that Giordano was a great composer.
One point I really want to stress: Corelli had an unmatched voice, huge and silvery gold, with soaring high notes that just about define what Italian tenors are supposed to do. But his acting might be even more extraordinary. There's no distance between him and his character, in this case a poet on fire with love and justiceon the eve of the French revolution.
The video — from a 1973 Italian TV performance — has no subtitles. For a translation of the text to something that's nominally English (I couldn't find anything better), go here.
Or maybe all you need to know is an outline of what's happening. A young aristocratic woman laughs at love, and dares a poet to improvise verses that might amuse her. At heart, he thinks, she's a serious person, and so he sings to her of beauty, and the rising anger of the poor. Reaction shot of shocked aristocrats! She alone, he sings, seemed to have the light of pity in her eyes, so when she laughed at love, she broke his heart. 
(The soprano here — Celestina Casapietra, with an eloquent face — isn't a well-known name. She married an East German conductor, Herbert Kegel, and more or less disappeared behind the Iron Curtain. Her son, Björn Casapietra — whom she made sure was born in Italy, so he'd be a citizen of a free country — became a German pop tenor and TV star.)